In Your Hands: Prior Lake, MN August 8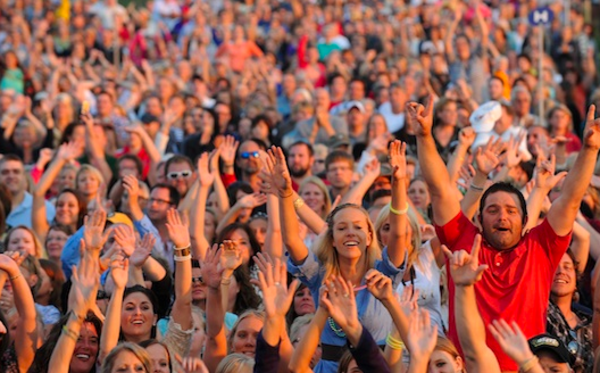 Ever since last night in Prior Lake, it's safe to say that Wednesday nights are the new Saturday nights for us! From the moment Jennifer and Kristian walked onstage each one of you stood and the energy pumped through the crowd like the sound of their beating drum. Thank you, Prior Lake, for sending us through the rest of this week on the ultimate Sugar high!
From the beginning when Kristian invited 19-year-old Cari Keller onstage during "Everyday America" through the end of the show, there was a whir of magic in the air! The clouds were in the sky cooling off the air, but no rain touched the ground. Instead it made for a picturesque pink backdrop as the sun was setting.
In addition to the weather, we loved some of the songs and requests from last night! Even Jennifer got excited about the votes via Twitter and asked the audience, "You can vote via The Twitter?" Kristian said, "The Twitter?" Jennifer laughed and responded, "Yes, The Twitter. I am The Older!"
Some of our favorite and most clever signs were, "Oprah wants you to play 'These Are The Days' for my 18th bday!" Jennifer said, "Well you didn't have to throw Oprah in there. You would've just gotten it!" She was clearly feeling extra spunky last night as she also decided to lecture a couple of college freshman who had the sign, "This is the last thing we get to do before college." Jennifer explained to the girls that the rules change in college. She's going to be such a good mom!
As at every Sugarland concert, there are a few moments that truly take your breath away. One of these moments happened last night when the "Sing With Sugarland" winner took the stage. Avery is a 4-year-old girl who was diagnosed with a brain tumor when she was 22 months old. The doctors told her family she had three months to live, but when they took her to St. Judes those doctors said, "We WON'T give up on your Baby Girl."
Jennifer, Avery's mom, took her onstage and sang 'Baby Girl' while Avery danced and clapped for the entire audience. What a beautiful moment that was for everyone involved. We're so honored that we were able to be a part of Avery's journey!
Thanks again, Prior Lake, for proving to us just how magical a Wednesday night can be if you add in all of the right ingredients! We'll be making our way back as soon as we can!
Photo Credit: Valarie Allyn Bienas