In Your Hands: Mt. Pleasant, MI August 5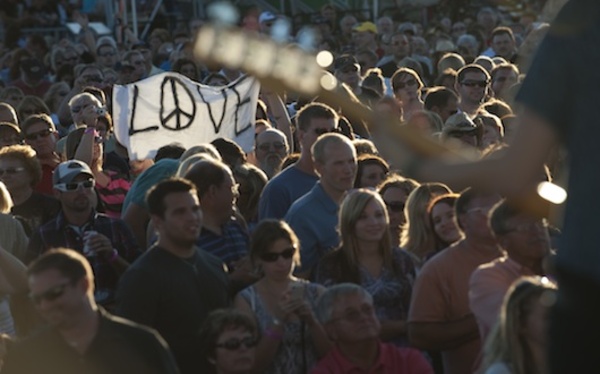 Last night's show in Mt. Pleasant had a funky, different vibe and you all seemed to love it! Thanks for bringing some of the most heart and soul we've seen in awhile, we wouldn't have had it any other way!

Jennifer and Kristian started the night out in chairs facing the audience, wearing sunglasses on their faces, and creating an overall jazzy, bluesy "dinner for two" kind of atmosphere. This made way for an intimate, magical night between Jennifer, Kristian and each one of you.

The show kicked off with "Stuck Like Glue" and you all couldn't have seemed more amped! Jennifer felt like a rockstar with her sunglasses on and guitar at her side. This rockstar feel combined with a low key vibe had Jennifer admitting to you all, "Today I am having one of those challenging days. I hear when you have those days things such as laughter and movement are bad. So instead of canceling I am going to sit my preggo ass down and rock from the top up.... There is a lot more going on up here then there is down there anyway!"

And boy was she right! The vocals were right on cue, the energy was uplifting, and the weather couldn't have been more perfect. Your requests were some of our favorite parts of the show as well! During the request "Fly Away" the wind was blowing and the sun was setting in the background creating the most picturesque image.

"Little Miss" was another one of the songs voted on for last night, and Jennifer and Kristian were thrilled to bring it to the stage. The song was dedicated to Erica Bjork. Jennifer asked to the audience, "Erica are you here, honey? Where are you? Oh, hi!!" That should give you an idea of just how intimate this show was!

Some of the signs we were most excited about included one that said, "If you're happy and you know it 'Stand Up'!" Another one asked "Who's your favorite sinner?" Kristian guiltily raised his hand, and Jennifer decided to do 'Genevieve' "churchified."

One of the most thrilling parts of last night's show came from the "Sing With Sugarland" winner who brought a crazy amount of energy to the stage. Before the song even began Tammy was laughing, crying, and giggling. That's the kind of effect this tour can have! When walking onstage Tammy through off her shoes and sang the entire song barefoot. Now that's some spunk!

Jennifer ended the night graciously saying to you all, "Thank you! This was a first for us...Playing like this. We appreciate and love you and hope to be back again soon!" We couldn't have asked for a better audience for last night's show, Mt. Pleasant. You truly outdid yourself! We'll promise to be back as soon as the wind brings us your way.

Were you at the show? Talk about it in the comments!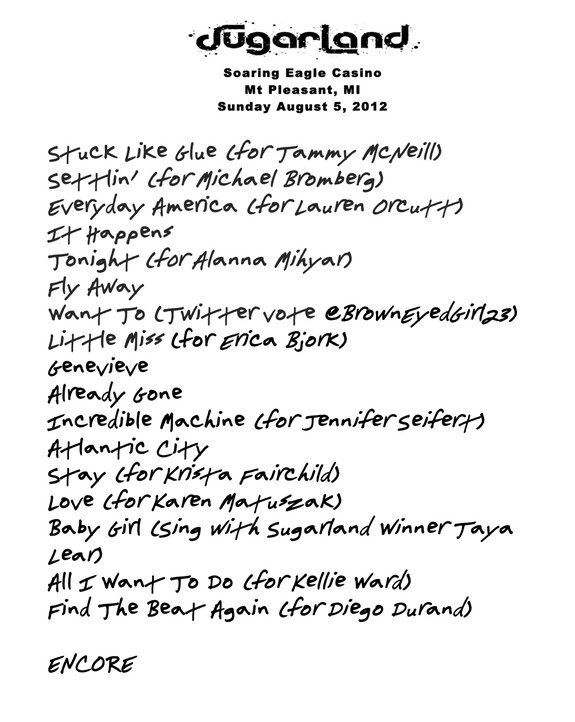 Photo Credit: Valarie Allyn Bienas