In Your Hands: Harrington, DE July 21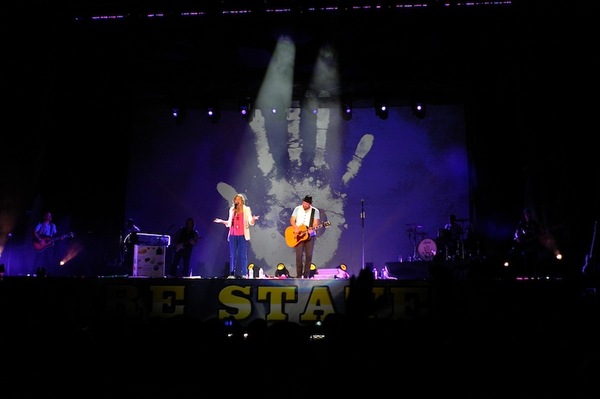 The In Your Hands tour is back in action, and boy did we start out with a bang! It almost took us by surprise that any city could have that much energy – in lieu of the weather, but Harrington you sure showed us that rain or shine you were there to have the night of your life!

Remember when "Tonight" played? That song has been one of our favorites to play over the past year, and last night's experience confirmed why we love it! People were chanting during the song and an American flag hovered over all of you creating the most beautiful picture-perfect image.

Before the show even started we had the immense pleasure of meeting the Governor and his family last night and realized just where you all get that welcoming Delaware attitude. What a treat!

The signs were brought back out last night, and oh how we've missed your requests! Jennifer of course chose the brightly colored one that requested "Fly Away". She admitted why this was chosen saying, "I'm like a raccoon, I'm attracted to shiny things!"

Another song that was chosen from the crowd was one from an earlier CD and Jennifer exclaimed, "Thanks for taking us back in time Delaware!" A few choice honorable mentions should be given to the sign with batteries and another poster announcing that a couple was newlyweds. We're glad you chose a Sugarland concert to help start out your life together!

The "Sing With Sugarland" winner was adorable Katie O'Brien, 15, who came on stage wearing a dress spun of In Your Hands colors. Katie may have been 15, but she already knows how to work a crowd! Jennifer asked her, "Katie how old are you, Do you have a boyfriend?, No? Oh- well you have sparkly nails and I like them!" Never quite know what she'll say, do we?

Couldn't have had a more perfect night to put us back on the road. Thank you, Delaware, for showing us some love and keeping it real! We'll be back one day, Harrington!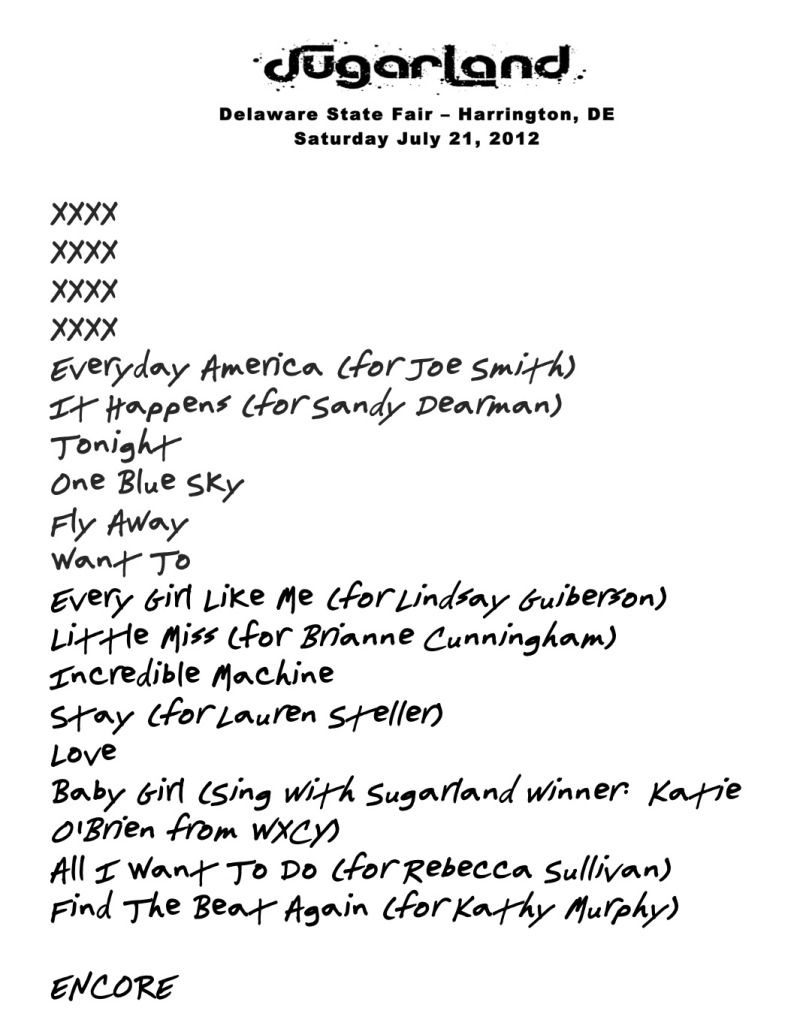 Photo Credit: Jessica Dover