Double Trouble for Jennifer on Duets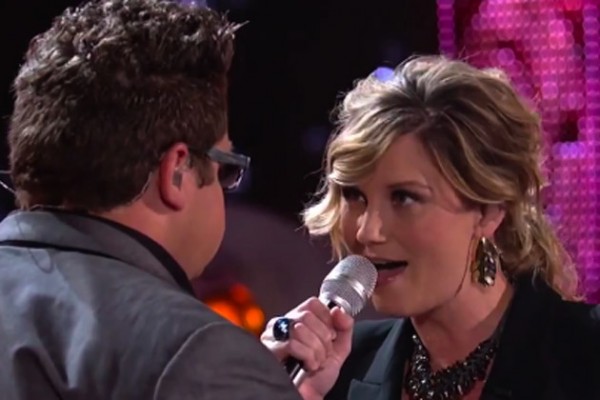 With only five contestants left on ABC's "Duets", we are proud to announce that two of them are on Jennifer's team! J Rome and John Glosson both managed to escape being sent home as well as prove to America last night that they deserve to stay around for a little while longer... maybe even four weeks longer!
As most of you may know by now, Jennifer is a judge as well as performer on this new hit show. Last night the audience was able to enjoy a healthy double dose of Jennifer as she sang her heart out with both partners in an episode that solely featured hits from the 2000s.
John Glosson and Jennifer opened up the first of the live shows by serenading the audience with a sweet, "syrupy" version of Josh Groban's 'When You Say You Love Me'. How did he measure up compared to his performance last week? Kelly Clarkson praised their performance saying, "I'm not shocked you did amazing just then... It was beautiful."
Judge Robin Thicke had a different approach on the entire performance criticizing it as being illegal. Of course, this was all in jest as he said they were technically singing as a trio now. What did he mean by this? We'll let you browse through recent news about Jennifer and figure that one out for yourself!
The second time Jennifer took the stage during last night's performances was to accompany YouTube sensation J Rome. For the past five weeks he has remained on top of the board, and Jennifer's plan to keep him there is to just have him be himself. Together they concocted a new version of Usher and David Guetta's "Without You". Kelly threw her shoe in an uproar about his talent, and Robin complimented Jennifer's "drop it like it's hot" moves. He, of course, thought J Rome was great too.
All in all, it was a good week of performances for Team Jennifer! Because the show is now live, fans will have until 11:59 Pacific Time tonight to vote, and after that period is concluded we will wait patiently for the results!
If you haven't submitted votes for either J Rome or John Glosson, click here for all your voting informational needs! Good luck, Jennifer and team!