In Your Hands: Tinley Park, IL June 23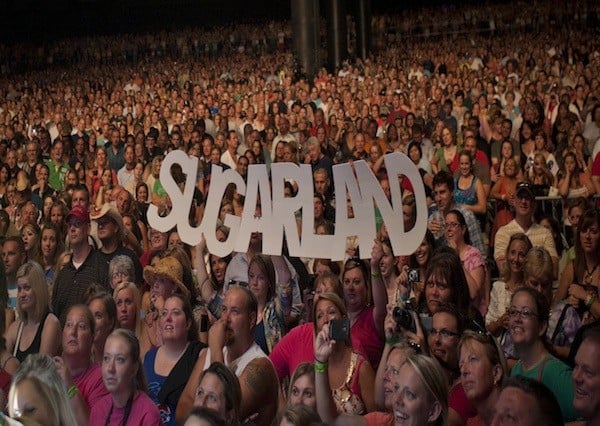 Tinley Park, what a show! We had high expectations for Chicago, and you certainly didn't disappoint! Sometimes we have to nudge the crowd a little, but you all got us dancing before we even walked out onstage. Our question is, when can we come back?!
We were excited about last night, but some people proved to be just as pumped about a Sugarland show in Chicago. Angel Cedillo missed his prom just to make it out! Although you were all not ready for someone else to help entertain, Jennifer still welcomed him graciously and said, "SO what if he missed his prom 5 years ago. He just went back to school and graduated! Good for him."
It wasn't only Angel that skipped out on something big to make it out to the concert. Another fan had her sign stand out in the crowd that read, "I missed my family reunion for this". Jennifer laughed and joked asking, "Are you sad about this?" So a big thanks goes out to those that made the extra effort to make it out, even if you used us as an excuse!
You really were full of surprises, Chicago! We even had a someone ask Jennifer and Kristian to play pin the tail on the donkey by way of a sign they made. Thought we wouldn't?! When Kristian pinned it to a fan's rear, they kept it on the rest of the night! You are a different breed, sugarfans, and we absolutely love it!
One of the greatest moments of every show is when we're able to bring someone from the crowd onstage. Last night we had that opportunity again, but it was in the most surprising way. The "Sing With Sugarland" contest winner called into the radio thinking she was just winning tickets to the show. Low and behold, she ended up hopping onstage with us to sing "Baby Girl"! Would you be nervous? We would be! However, Jenny took the stage like it was hers and sang her heart out. It was incredible!
Another incredible part of the show was all of the signs. It was such a humbling experience to see everyone with their "Little Miss Project" posters decked out in the neon colors of the show. Jennifer scoured the crowd looking for one specifically until she finally called out, "I can't find the one I'm looking for. This is what happens when you get pregnant!" The crowd loved her comment and roared with applause.
Every part of last night was unforgettable, and we couldn't thank you more for such a special time in Chicago! We won't forget you, Tinley Park!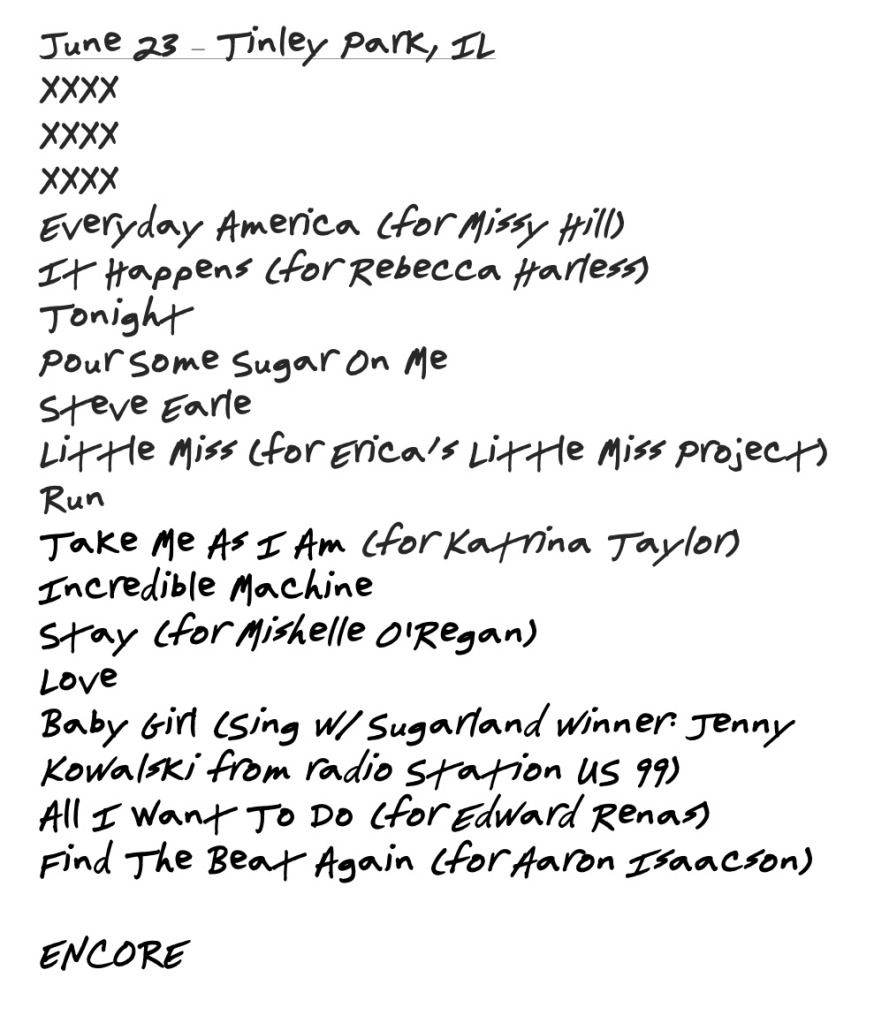 Photo Credit: Valarie Allyn Bienas