Jennifer Holds Top Spots on Duets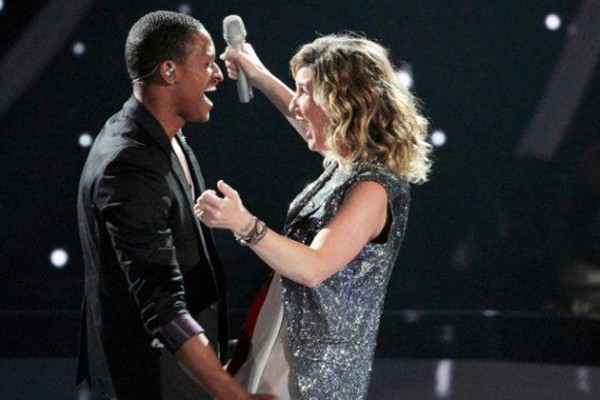 If you haven't started watching the show Duets yet, but you call yourself a Sugarland fan then you may have your wires crossed! Jennifer and her two chosen contestants, R&B entertainer J.Rome and hometown singer John Glosson, have stepped onto the stage alongside Jennifer for the past five weeks and blown their competiton to shreds.
Of the two contestants, J.Rome specifically has created exceptional sound waves during the show as he holds on tight to the top of the leader board for the fifth consecutive week. This past episode was movie themed, and J.Rome decided he would take on one of the greatest love songs of all time, Whitney Houston's "I Will Always Love You" made famous by way of the Bodyguard soundtrack.
However it wasn't just the crowd pleaser, J. Rome, that made stirs. Glosson also took on another female powerhouse song and made it his own. Celine Dion's "My Heart Will Go On" was completely embodied by Glosson's smooth and strong voice. This was a leap for him as he has only performed male artist songs thus far, Rascal Flatts and Joshua Grobin, but it seemed to be a solid decision as it landed him in the top two joining fellow Nettles' partner J. Rome.
These two contestants created shining moments in the show, but the magic of Duets wouldn't have been quite as brilliant without the help of Jennifer, and her performances didn't go unnoticed. The other judges applauded Jennifer for working just as hard as those competing. Kelly Clarkson specifically mentioned how impressed she was with her high notes on the Celine Dion cover. Of course, Jennifer just humbly replied, "I just shine a flashlight".
So Jennifer and her talented competitors are taking the lead, but will they be able to stay on top? Find out next week as Duets resumes to its normal time on Thursday at 8/7c on ABC.