Sugarland Blogs: Now Featuring John from Holmdel!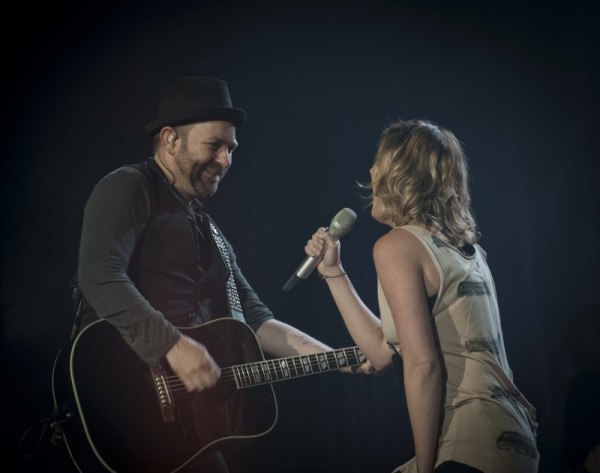 Blog by John
It had been a long, hard year before I saw Sugarland May 21, 2011 at the PNC Bank Arts Center. In retrospect, it was probably the darkest year of my life. Every day felt like a battle. Sugarland's music was the only thing that got me through, the only thing that helped me win the battle. In the midst of my personal turmoil, THE INCREDIBLE MACHINE came out. It was an album that, in many ways, saved me. It brought me joy. It reminded me that I am human, that I deserve more, that I should "stand up" and fight, that "it'll be alright again".
Jennifer and Kristian helped me to be optimistic and joyful in the face of my trials and tribulations. Their music told my story, and even as sad as my story sometimes seemed, they managed to put a positive spin on it. They gave me reason to dance and jump with joy. They got me through. Thus, it was only natural for me to want to see them in concert. But this seemed unlikely. We were struggling financially, and I wasn't sure if we would get the money together in time. But I kept my hopes up, and two days before the concert, we had enough money for tickets. Thankfully, I was able to find pretty great seats online: row 11 on the left side of the stage. I was thrilled!
I spent the whole day of the concert in preparation. I spent hours making a sign. You see, I wasn't just going to this concert to enjoy their music, I had a mission. Earlier that year, I choreographed a dance to "Stuck Like Glue", and with the help of a friend, I recorded a video of it and posted it on YouTube (you can find it here). It is my dream to perform this dance onstage during one of Jennifer and Kristian's concerts. I was unsure if they had even seen the video, but it was my goal to get called up onstage. Thus, I made a neon green sign reading "I made a dance to Stuck Like Glue. Call me up onstage." I also tweeted them about a million times before the concert and encouraged friends to do the same.
Upon arriving at PNC, I noticed the seats were even closer than I thought. Surely they'd see the sign! Matt Nathanson came out onstage and performed an excellent set. Then, Little Big Town also came out and did a wonderful job. During their set, I was one of the few people up front standing, dancing, singing, and clapping along. I could tell that the other concert attendees were annoyed that I was standing and they weren't, but I was there to have a good time and wasn't about to let them stop me. Plus, the members of Little Big Town seemed to appreciate my enthusiasm. Finally, it was almost time for Jennifer and Kristian to take the stage. I could hardly wait.
I sat between the sets, but as soon as "Black and White" began to play, I jumped to my feet. Then, Sugarland took the stage and "All We Are" began, sending my heart pounding. "Stuck Like Glue" followed, and I hadn't yet held up my sign, but I thought maybe they would still call me up later in the show. And they did take notice of me. During "Settlin", Jennifer looked right into my eyes and sang "I ain't settlin' for anything less than everything". It was an incredible feeling. It was as though she was speaking the lyrics right to me, encouraging me to follow my dreams. When Jennifer took her first break to speak to the audience, I held my sign up high in the air. Kristian noticed it and nudged Jennifer to look at it (I was one of the only people in the venue with a sign). Jennifer glanced at it and pointed at me. I couldn't believe they took notice of me. I was thrilled.
They didn't call me up onstage, but I still loved the rest of the concert. I danced like crazy the whole night. The encore was especially memorable. After a moving performance of "Stand Up" and a fun turn at Madonna's "Like a Prayer", Jennifer prompted Little Big Town to stay up onstage and Matt Nathanson to come back out. She noted that according to some misguided radio personality, the world was supposed to end at sundown that day, but it in fact did not. (In her words, "the spaceship was supposed to land right on top of this venue and zap us all up"). In honor of the predicted rapture, Sugarland, Little Big Town, and Matt Nathanson ended the show with a cover of R.E.M's "It's the End of the World (As We Know It)".
My experience was incredible. Every Sugarland concert I attend is always incredible. I always anxiously wait for Jennifer and Kristian to take the stage, to the point where my heart starts pounding and I even shake with excitement a bit as it gets closer to showtime. But once that curtain drops, and I'm seeing them live and in the flesh, singing along with them, it never feels like "Oh, wow, I can't believe I'm seeing this huge celebrity". Instead, it feels like I'm finally getting to hang out with my old friends again. I feel safe there with them, authentic, myself, more so than I feel most other places. Their songs have shown me that they understand me in a way others might not, and maybe, the fact that their music is so relatable to me, shows that I understand them a little as well. I feel connected with them, comfortable, willing to put my whole self out there dancing and singing along in the audience (despite what the strangers around me might think) because they are on that stage giving their whole selves to us: musically, physically, emotionally, and vocally. Although, I have never actually shared a conversation with Jennifer and Kristian (I wish!), I feel as though we have communicated. They share their stories with me in their songs, and I reply affirmatively, totally understanding where they're coming from. They inspire me and empower me and advise me, and I respond in a number of ways, I suppose.
I thank them by telling the world how great these people are when I wear my Sugarland shirts and wristband. I respond creatively by making dances or using their lyrics as inspiration. And in a way, it is like a conversation. And this conversation never becomes more real than it does live in concert, when you are right there, sharing the lyrics with them in person. I guess that's why I value their concerts so much. I get to spend time with these people who have given me a sense of solace that few others can give me. I get to feel comfortable being totally myself, totally wide open. And although Sugarland has yet to call me up onstage to do my dance, I still have hope. Hope that I will one day, for a brief moment, share a stage with them and get to be a part of the magic they create, the impact they have. I suppose part of the reason I want to do my dance on their stage is because it will give me an opportunity to respond to them and give back to them in a small way, to thank them for their creativity with my own creativity. To show how they have brought so much joy to my life. To maybe, hopefully, give them a little bit of the happiness they've given me. And, of course, to get to meet them. Because that would be awesome. And as I've been shown time and time again, dreams do come true in Sugarland.
Thank you, John, for your story! Read some of the other Holmdel blogs here.