Sugarland Blog: Now Featuring Jennifer from Detroit!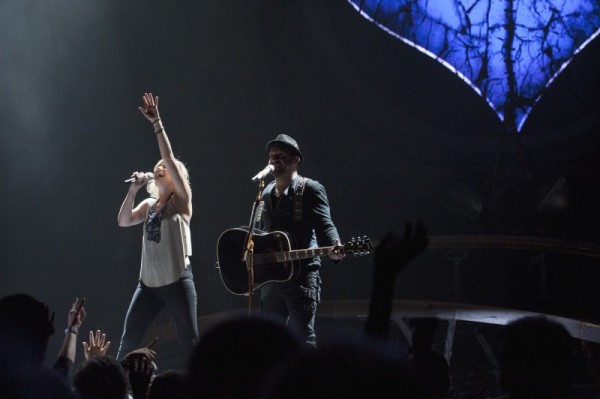 To say this show was incredible is an understatement. It was by far the most incredible sugar-experience ever. One of those nights that changes your life. I almost have trouble putting it into words, but here goes nothing!
Months before the show, my friend Jessica and I were determined to help make this the biggest LMP LIVE yet! We created over 500 pre-made signs with the lyrics on them to pass out the day of the show. The night before Jessica (sugarfan86), Jessica (jsteam3988), and I got together to create a few more banners for our tailgate the next morning. We even had Jennifer Nettles Impossible Pie! Once we finished the banners for our table and our personal signs for the LMP LIVE we went out and painted my car for the show. We left bright and early determined to be the first ones there again.
When we got there, Holly and Erika were already there and the gates were open so we thought no big deal! We pulled in at 8:30am and one of the security guards told us that we couldn't be in the lot that early so we got back in the car and headed over to the hotel. We headed back to DTE about 1:30 and were able to set up. We had my sugarland beer pong table with the LMP LIVE banner flying proudly as well as our newly crafted LOVE flag blowing in the wind. Shortly after that we were joined by the rest of the gang! Karen and Tim, Maria, Erica, Sarah, Stephanie, and Amy! So awesome to hang out with old sugarfriends and meet new ones!
While waiting in the Sugarpass line, Brandon and Annie came out and said hello! Super cool I was able to have them sign my LOVE flag! Despite a little confusion we were all let into the venue and informed it would be the smallest pit on the tour which was awesome. Once inside Jess, Jess and I were on a mission....operation LMP LIVE! We hit everyone as they entered the pit and took signs up to the pavilion. They took a ton of our signs and passed them out. We had over 500 made and they were ALL given out! I was amazed! Then it was time to line up for the meet and greet. I was getting nervous to meet Jennifer and Kristian. So much in my life had changed since the last time I saw them. I still feel like it was their music and the people brought into my life because of their music that helped me through it all.
I had the LMP LIVE banner that we made and had everyone sign it to give to Sugarland. They let the line enter, and I started getting excited! After a few minutes and a few instructions from Yoda, my favorite...if you have a beer please set it down BEFORE you meet Jennifer and Kristian... priceless. Then J&K walked out and I couldn't help but smile. Seeing sugarfriends meet them was amazing! Yoda was awesome again and let me go last to deliver the banner to them. I had no idea what I was going to say and just let myself be in the moment. I walked up to them and we introduced ourselves. Jenn asked me what was in my hand so I unfolded it and told them since we took the LMP LIVE for the first time in Grand Rapids, and it was my mission for this return show to be even bigger. We wanted them to have something to remember it by.
Jennifer and Kristian started reading it and appeared to have wet eyes. Kristian's response was "you don't know what this means to us." I looked him in the eye and said, "I can't even begin to put into words what you guys and your music mean to me." He gave me a big bear hug and said that it's ok to cry. I turned to Jennifer and said, "There are no words that can describe how much your music has helped me. Thank you doesn't seem like nearly enough, but thank you." I told them if all goes planned they may see the biggest LMP LIVE tonight, and they said couldn't wait. That experience blew me out of the water! Then it was time to go back to the pit where I ran into a friend who asked about meet and greet. I couldn't even get the whole story out without crying!
Jennifer & Kristian were on fire the entire show! Best show I've ever been to! Their interaction with each other was amazing and they sounded phenomenal. As the set list drew closer to "Little Miss", I felt myself get nervous. I was hoping that people would hold the signs up, but you never know until it happens. The first note of the song started, and I held up my sign. The spotlight hit Jennifer and she began her walk to the center. As she got closer I looked at Jennifer and Kristian and saw that their eyes were welling up. I was afraid to turn around to look at the pavilion until that point. I turned around and was blown away! The pavilion was covered in white paper signs. I immediately began crying. At one point during the song i locked eyes with jennifer and my sign was flipped to my last one that read "Thank you Jennifer & Kristian." I mouthed, "We did it" and she said, "Yes - I love it!"
I had chills throughout the entire song. At the end Jennifer said it was beautiful, and that it was indeed the biggest that they had seen so far. Again there went the waterworks! The place went nuts! I was so proud and so happy that Erica, the creator of the project, was there with us that night! On the way out, seeing people take their signs with them was awesome. I will NEVER forget that moment. From the morning to the night of July 9th was a day I will always remember. Thank you to Mike for letting me be his guest at the meet and greet. It was incredible. Thank you to Casey for all your help passing out signs. Thank you to EVERY person who participated!! And of course, thank you to Jennifer and Kristian for an incredible night that i will NEVER forget! It was my perfect "Tonight"! Here is the video that sums up the night...it was my entry to the "Tonight" contest last year, and a majority of the pictures came as a result of the Detroit Show....a night i will NEVER forget...My perfect "Tonight"! Watch my video here.
Thank you, Jennifer, for sharing your story with us! View other blogs from Detroit here.