Day Off Record Club: The dB's Like This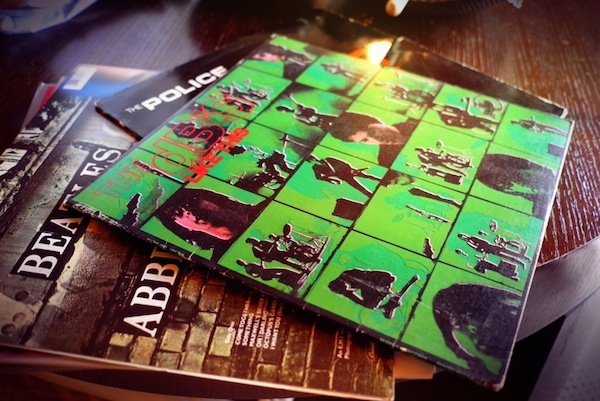 From the pen of Kristian Bush
I read about them first in an article where Michael Stipe mentioned that he loved The dB's. I wrote down their name because I'd never heard of the band, but it wasn't until I heard "Lonely Is (As Lonely Does)" on the local college radio station that I went digging through the bins at Cats Records and Tapes in downtown Knoxville to find out whatever I could about them. I asked the guy behind the counter, and he just pointed me to a section of the store and said if they had anything it would be over there in the T's, for the T in The dB's. This is a good time to ask this question, actually: Are The Cars filed in C or T? Are The dB's in T or D?

Anyway, the album I found was only available on vinyl and was called Like This. I bought it and waited for Mom to come pick me back up at the store because I was 14 and couldn't drive yet. It took me the better part of a week, but I learned every song on that album, minus the guitar solos. (I wasn't that good.) I would come in after school and grab my guitar and move Dad's stereo turntable to the ground where I could sit and pick the needle up over and over again to repeat the songs until I got them right. Pretty soon I realized that I couldnt' get my guitar to sound the way they sounded on the album, so I went to Pick N' Grin, the local music store, and asked them, "Why does it sound that way?" They politely plugged in a chorus pedal in between my guitar and my amplifier. Immediately, I had the sound from "On the Battlefront" -- and, incidentally, from "Purple Rain". I had hit the pop music jackpot. I believe it was on this day that I decided I didn't need to be the fastest, flashiest guitar player on earth to make sounds on an electric that mattered.

I knew nothing about the band other than the fact that R.E.M. thought they were good. Their album was green, and I learned the names of the people who worked on the album from the back cover liner notes: The lead singer and songwriter was named Peter Holsapple. (I learned later about Chris Stamey but his name was not on this album.)

Their melodies were so easy on my ears, the topics of their songs so off-center, and the singers' voices were so unique, it all added up to a sound that hinted one part towards pop and another part towards college rock. It was a great combination, and it hit me between the eyes. I still can't believe how tightly those songs are written. The guitar parts, the synths and bass lines -- they are all interlocking.

From the opening track "Love is For Lovers" through to "Lonely Is (As Lonely Does)" into "Amplifier" and "On the Battlefront," this album -- mixed with Van Halen's 1984 and the Police's Synchronicity -- formed my idea of how songs are structured.

Things that I learned from this album:

- Songs come in every flavor -- pop, country, alternative -- but it's important to give each one a personality.
- A band you've never heard of can be named by a band you have, and it makes it worth tracking backwards. From R.E.M. I found The dB's, and from The dB's, I found Alex Chilton and Big Star. I cannot imagine life without any of these bands.
- Albums need cool album covers and they need to be predominantly governed by color. I still use this today. Our Sugarland albums can sometimes be described as "the blue one" or "the white one" etc... This dB's record will always be "the green one" in my mind.
Favorite Songs:

"Love is For Lovers"
"Lonely Is (As Lonely Does)"
"Amplifier"
"A Spy In The House Of Love"
"On The Battlefront"

Coolest moments on the album:

- The bass part on "Lonely Is (As Lonely Does)" is a perfect counterpoint to the melody. I always wondered which came first. I also love the bridge of that song, and how all the reverb disappears.
- The claps in "Amplifier"; also, the nearly perfect guitar solo.
- The first chorus and the the after-chorus chorus of "Love is For Lovers." Yep, they just kept writing choruses. I totally stole that move!

As the years went by, I tried to follow The dB's, but Like This turned out to be their penultimate album, and by the time I was in college, they had broken up. Still, when I heard a song called "Angels" on Album 88 in Atlanta for the first time, I could have sworn it was them. When the DJ came on, he explained it was from an album called Mavericks that Peter and Chris reunited to cut in 1991. I still have "She Was The One" from that album on my morning coffee playlist -- I listened to it this morning, in fact.

Now we come to the most important part: Knowing all of this about my affection for this band that mysteriously disappeared long ago, you can imagine my excitement today, for today is the day that The dB's release their first album in 30 years. It's called Falling off the Sky, and I can't wait to go to the record store and buy a copy.

In a twist of fate that still has my head spinning, I am proud to say that I co-wrote one of the songs on the album with Peter. It is called "She Won't Drive In The Rain Anymore," and it's track 11. I remember writing it and trying not to freak out, because the voice singing on the sofa across from me as we were tossing melodies and lyrics back and forth was a voice I had known since I was 14. I am convinced that the 14 year old me locked away some dB's melody, and served it back to the man who gave it to me in the first place. I am grateful and humbled. And I am sitting in my room totally freaking out that there is about to be a new dB's album and this time, my name is on the liner notes. Dreams do come true!!
Note: You can listen to The dB's Like This album in the player below. Also check out Kristian's Atlanta based publishing company Songs of the Architect for more updates on what Kristian and his team of songwriting architects are up to. Enjoy!