Sugarland Blog: Now Featuring Laura from Lubbock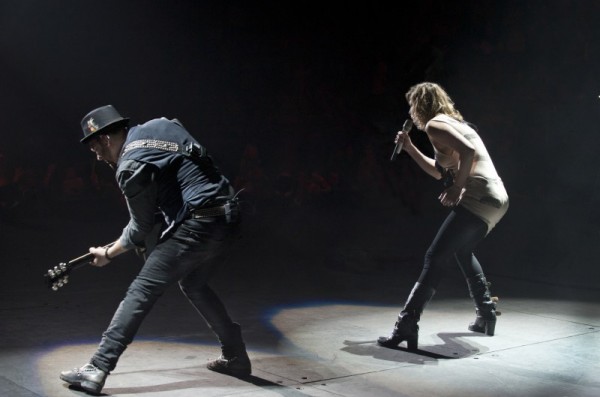 Blog by Laura
I will never, in my life, forget the Sugarland concert in Lubbock, Texas last May 26th, 2011. My family and I were there visiting some of my other family when I heard the best announcement come over the radio. Matt Nathanson, Little Big Town and SUGARLAND! I called my mom, told her to get that day off from work, and then made a detour to the next United Supermarket to pick up three tickets.
The seats were perfect! They weren't front row or even all that close, but it was my first Sugarland Concert and the seats didn't matter. The show was about a month away at this point and I couldn't wait! Finally the day came for my mom and I to make the hour and a half drive back to Lubbock to meet up with my Aunt. Driving up to United Spirit Arena, the stairs were already full of people walking up. We found the closest parking spot, pulled in, and made our way to those same stairs. Holding on to my ticket like it was dear life, we finally made it to the door.
I have been to the United Spirit Arena several times before, but something was different about that night. Walking in I was beyond excited. My mom and Aunt went to find the seats as I waited in line to pick out the best t-shirt among all of the fan gear. The show was getting close to starting, but I wasn't about to get out of that line, I was getting my t-shirt. I picked my favorite one and headed for my seat.
As I said earlier, the seats were perfect! The music cut off and the lights dimmed. I didn't really know that much about Matt Nathanson, but after that night I am a big fan of his. My mom loved that he sang a Journey song for his last song. The stage went dark, we waited a few minutes and then four figures appeared with a red, white and blue background. Little Big Town rocked the stage with "Boondocks" and "Little White Church." Then they slowed it down on "Bring It On Home." They also surprised us with a Lady Gaga cover of "Born This Way." Matt and Little Big Town were awesome, but we were all ready for SUGARLAND!!
The lights dimmed once again, and the excitement rose every second. There was no other feeling like the rush of that night. There were screams and hollars in the dark and then some lights came on. Then there was that wonderful music, followed by Jennifer Nettles amazing voice. The curtain dropped and the stage exploded!! The lights, sounds, the huge round screen in the back and Sugarland in all their glory. I thought my ear-drums were going to burst. I have never experienced anything that loud, but it was well worth it!
I can't recall every song, but "Baby Girl", "Stand up" and "Stay" were incredible to hear in person! I can't even begin to describe the remix of "Everyday America". It was so much fun and Jennifer rocked those songs! After so many amazing songs, screams and unbelievable emotions the end of the show was upon us. For the finale, Matt, Little Big Town and Sugarland all teamed up to cover REM's "It's the End of the World". My mom, aunt and I became die-hard Sugarland fans that night! Thank you to all the amazing people of Sugarland and for one great show. I can't wait 'til the next!
Thank you, Laura, for sharing your story with us!