In Your Hands: Irvine, CA June 2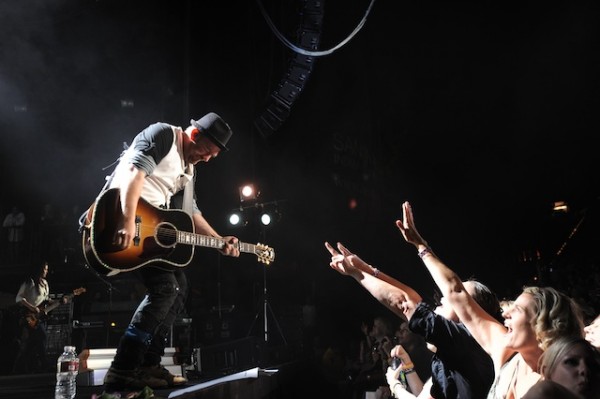 What a night, Irvine! So much enthusiasm and so many great signs. They covered the area from the top of the lawn all the way to the front of the Sugarpit! Jennifer pointed out three girls up top with an amazing airbrushed sign that she could read from the stage, as well as a guy named Gary who held up a beautifully printed sign. "Gary, did a lady help you made this?" Jennifer asked, "Those are some pretty good block letters!" Then Jennifer noticed a neon orange sign made by a Sugarpass member that read: "These are the Days to Get Wasted." Jennifer noted that the venue was selling martini glasses so they must be a fancy crowd.

When fans requested "I Like Big Butts," Jennifer said "Well, I do like big butts, and you know I'm a rapper in a white girl's body! I'll definitely think about it!" Even the band had a request, "Ice Ice Baby." So Jennifer did have a chance to pull out her rapping skills and killer dance moves. Kristian got down on his knees and put his arms in the arm feigning devotion. Everyone got a huge kick out of that!

Next up was "Fly" dedicated to Mitch and Dianne. Jennifer found Dianne in the crowd, but Mitch wasn't sitting with her. When they finally found Mitch, Jennifer asked Dianne if she knew this guy and if he really WAS Mitch. During the song, Jennifer played guitar and Kristian laughed when Jennifer tried to throw her guitar pick to the audience. She was trying to throw it behind her back and it didn't quite work out. "I don't want to throw it like a ninja star," Jennifer told Kristian and he gave her (and the audience) a lesson in expert guitar pick throwing.

Lots of folks brought flowers for Jennifer and she thanked everyone! Then Jennifer chose a sign that read "Garrett Trevino turns 21 and has never been kissed. Please sing "Already Gone" to him." Garrett came up on stage and sat on a stool while Jennifer and Kristian sang. He was really nervous and Kristian wiped his face with a towel and gave him some water. When Jennifer sang the last verse, she had the band keep playing so she and Garrett could dance. They finished the song with a dip and Garrett was thrilled.

Tracy Blanchard was the Sing with Sugarland winner from KFRG. After she sang the first sentence of the song, the crowd began cheering. Kristian and Jennifer were both smiling ear to ear, and during the song confetti was shot up in the air. Tracy and Jennifer had great chemistry and were gesturing and stomping their feet in tune.

So many great stories and memories! We'll never forget the fun we had in Irvine and we can't wait to hear YOUR stories from the show. Leave them in the comments!

Catch you at the next stop!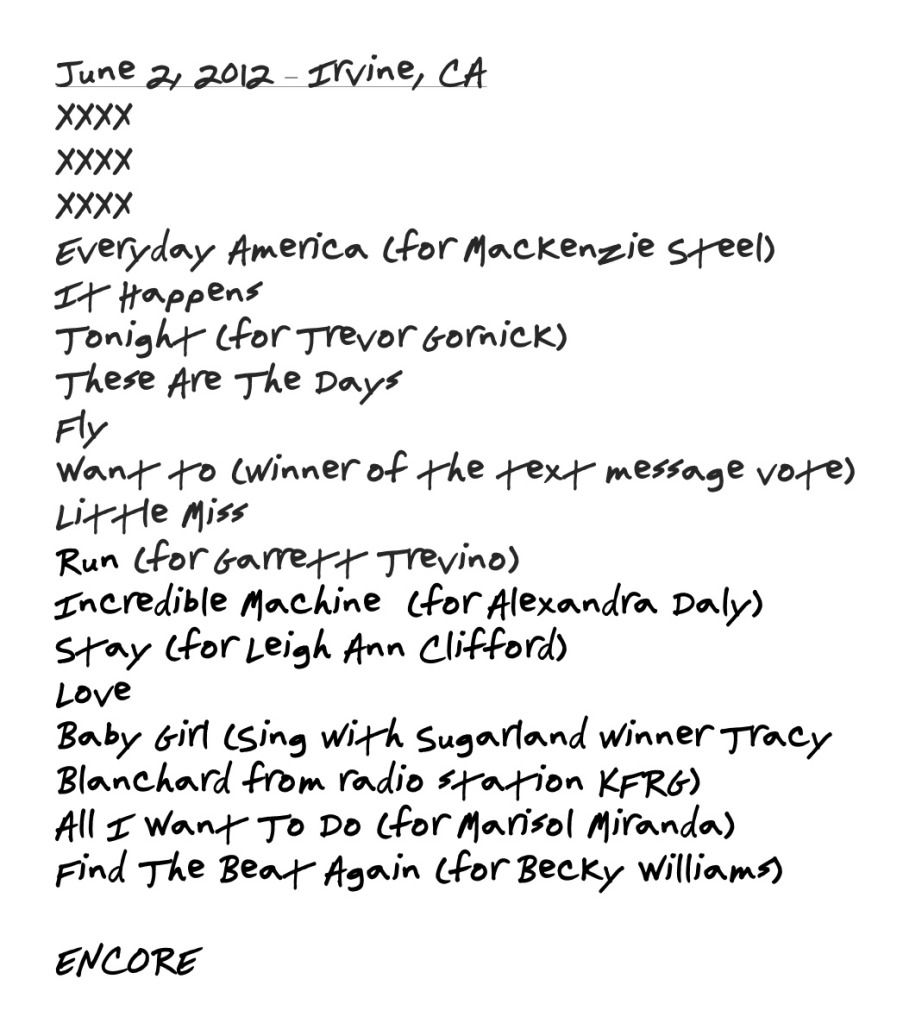 Photo Credit: Valarie Allyn Bienas