In Your Hands: Mountain View, CA June 1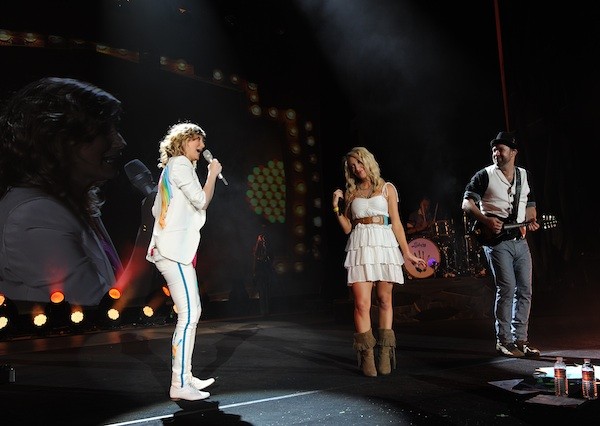 It was such a heartfelt show in Mountain View with so many great moments. The crowd was as much a part of the show as the folks on stage, and the Sugarpeeps we did pull on stage had so much going on! Everyone had a joke or a story.

From the minute we started playing "Stuck Like Glue," the crowd was on their feet and they didn't stop all night long. Jessica from San Jose did a great job dancing to "Everyday America." When Jennifer complimented her on her legs, she asked the crowd what they thought and received a HUGE round of applause. Jennifer took time to thank the crowd for being part of the show and for being so into the music and that set off an even MORE cheering.

Then Jennifer asked the crowd if they liked surprises, "I don't like surprises, but Kristian does. I'm a Virgo and we don't like anything that has any anticipation!" Mountain View apparently sides with Kristian when it comes to surprises. And the surprise? Kristian gave his guitar to someone in the crowd!

The signs were outrageous! Amazing colors and clever slogans. Jennifer laughed when she saw a huge sign reading "We're zoo keepers. Sh*t happens!" Kristian and Jennifer chose a fan whose sign mentioned his had just graduated from Santa Clara. Jennifer asked him what his major was and he said "computer science." "You better remember this guy's face," Jennifer joked, "He'll be tapping into all your stuff. . .credit cards, phone numbers!" She also mentioned that it was a smart crowd because that's what you get in a computer city.

Lindsey Tipton was the Sing with Sugarland winner for the night from radio station KRTY. She was dressed in a fun ruffled dress and cowboy boots and sang most of the song herself. When she finished, her boyfriend handed her flowers. Jennifer said, "You didn't get me flowers!" and he got really embarrassed. Jennifer asked him if the two of them were thinking about getting hitched. And he said they were, but not right now. "Okay," Jennifer said, "I'll pass that along to the leading lady!"

What a great night! It seems like each concert is even better than the last and we can't wait to see what happens at the next stop. We were smiling all night long, Mountain View! We can't wait to see you again – and Lindsey, we will be expecting a wedding invitation!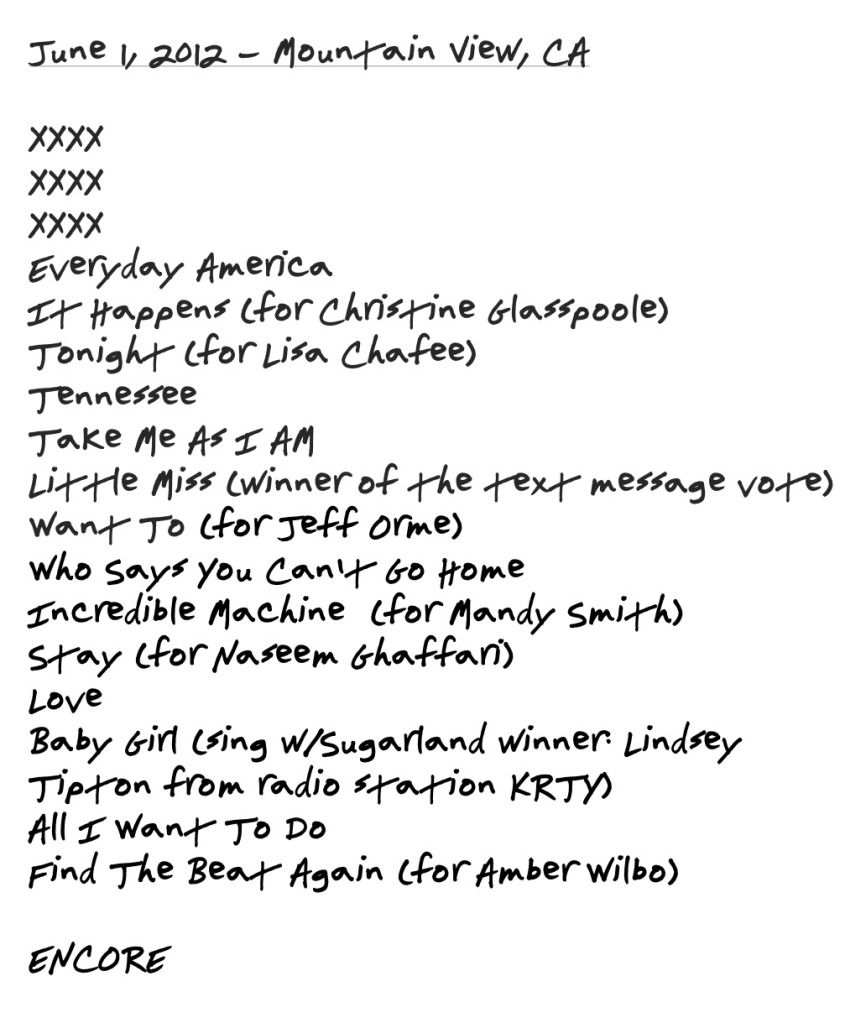 Photo Credit: Valarie Allyn Bienas