Get a Sneak Peek of "Duets" Premiering Tonight on ABC!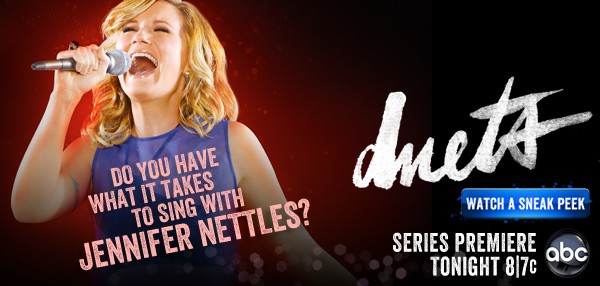 Calling all Sugarfans! Tonight, Jennifer, John Legend, Kelly Clarkson and Robin Thicke begin their journey across America to find their duet partners for ABC's new music competition "Duets."
Ultimately, each judge will choose two singers to be their duet partners. Together, the judge and their protégés will take the stage each week and perform in front of a live studio audience. But in the end only one duet will win.
We absolutely can not wait for you to see the show. Are you hosting a "Duets" premiere party complete with #TeamJennifer themed snacks? Watch the show tonight at 8/7c on ABC and share your show feedback right here in the comments.
Also, follow along on Twitter thoughout the show - @JenniferNettles and @Sugarlandmusic. We'll be watching along with you! When you tweet, just be sure to use the hashtag #TeamJennifer.
Ohh, right about that Sneak Peek we promised...here it is!