Sugarland Blogs: Now Featuring Ally from Boston!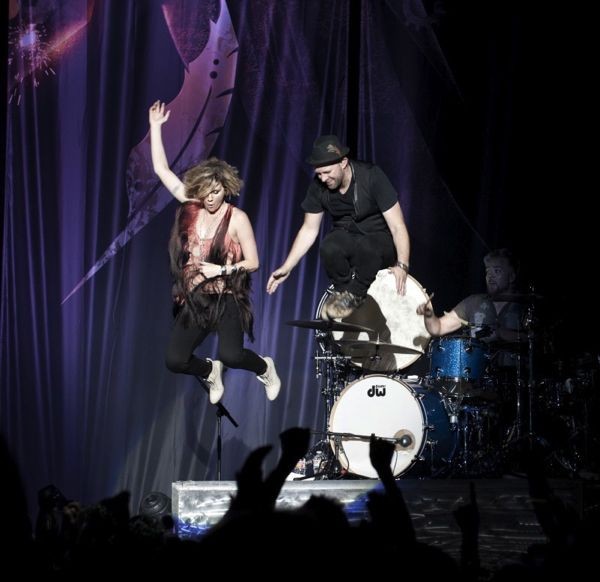 Blog by Ally
There was a long time, probably close to 5 years, when my relationship with my father was like a roller coaster, and not a very fun one. I had all but given up hope of ever recreating a positive relationship with him, but one night, May 20, 2011, changed my outlook. My dad asked me what I wanted for my 18th birthday, and without hesitation, I said SugarPit tickets for this show. I originally meant for me and a friend, but he was so excited to go I couldn't tell him that.

I went home 'sick' from school the day of the presale, logged onto the website 10 minutes early and sat there refreshing the page every 60 seconds until it was time to buy the tickets. I have never been quite so excited to purchase anything in my entire life. The day of the show, my dad picked me up from school an hour early, and we drove to the Comcast Center, about an hour away from home. We got there before the parking lots were even open, and sat in the car listening to The Incredible Machine on my iPod until we could go park. After we got out of the car, I triple checked I had my laminate, and we went and sat on the cold concrete for the next couple hours, chatting with all the other awesome and super dedicated fans who had lined up with us.

There's something to be said for that experience of sharing time with complete strangers, some of whom had driven hours to get there. These are people that under any other circumstances, any other band, place, time, or reality you never would meet. I found it to be one of the most rewarding parts of the whole day, meeting these people and hearing their stories, and how Sugarland had touched each of them enough to be sitting on the ground with 2 hours to go before the doors would even open. Once we got inside, my dad and I managed to get a spot right up against the stage. The stands hadn't even begun to be filled yet, and I already had the sense that we were in for something magical.

The show started, and I right away melted in to the wonder that is Matt Nathanson. Phillip from Little Big Town reached down and handed me a guitar pick, something I will never forget, and something I wear proudly around my neck every day, and then the lights went down one last time. I think I took about 200 pictures that night, trying to capture as much of that night as I possibly could. I got chills the moment the first bars of "All We Are" flooded the air around me, and everytime I think of watching Kristian play guitar mere inches from where I stood I get goosebumps all over again. I can still feel this shivers running up and down my spine hearing Jennifer sing my favorite song, "Settlin,'" as I watched her walk right past me. I can still sense the unabashed glee that overcame me as I felt her hand hit mine as she walked by me during "Every Girl Like Me." I got home with a voice hoarse from singing and yelling, and a body sore from dancing. The smile didn't leave my face for days. But what I really got, as lame and cheesy as it may very well sound, is another chance at a relationship with the father I had almost given up on. There is something about the night we shared together that has inspired me to forgive and to try to move on. I think there might be a magical healing power somehow instilled in the words and music of "Settlin'" and "Everyday America" and "Find the Beat Again."

I don't know how to describe it, but somehow, some way, there is something to this music that makes it more than just songs and instruments, but a tool that opens your eyes to what you have and what you could have and that, in my opinion, however much that matters, makes a Sugarland concert, this Sugarland concert, something that I will never forget because of what it gave me back, the drive and the desire to fix something that was very, very broken.