Sugarland Blogs: Now Featuring Sandra from San Antonio!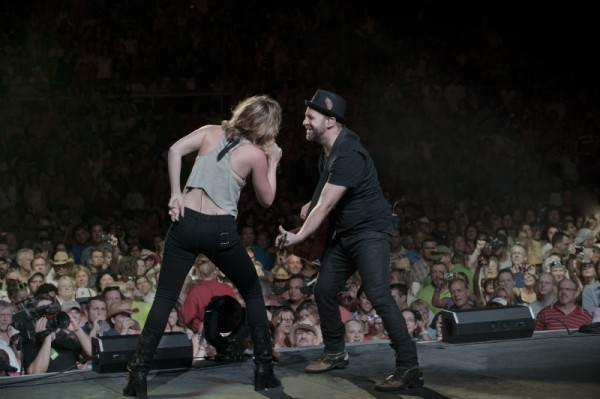 May 27, 2011

Blog by Sandra

It was the last week of May and the momentum was building with excitement. It was Sugarland week and I learned that I won m&g passes to this event so it was quite impossible to wipe that big grin I had on my face. Seriously, when a family member looked at me after a while, they just rolled their eyes as they knew what was on my mind. SUGARLAND is Friday! I promise you I was not annoying, but again, I couldn't hide that big 'ole smile! This would be the second time I meet Jennifer & Kristian. And since my sister in-law was going with me, I thought I'd give her the other m&g pass, but she kindly declined. After a second of "What?, Why?..." I decided to see if one of my friends would be, ahem, willing to take this other pass off my hands. Nah, I sincerely wanted to bless someone else with the same experience I had on my first visit with them. So I invited my friend Robyn to the m&g, who I met on the SL boards (a fellow Texan).

The day of the concert was a regular Texas scorcher with temps nearing 100 degrees—as we discovered taking a bike ride around downtown for a few hours. But as we sat in our chairs later that evening in the Illusion Theatre in the Alamodome (very nice and cold btw), I was increasingly getting nervous about meeting Jennifer & Kristian. I tried to snap out of it, and met up with Robyn. We made our way to meet them. I enjoyed seeing J&K take their time in meeting all their "friends" and especially enjoyed seeing a little girl get all shy when she hugged Jennifer and wouldn't let go. Too cute!

After Robyn had her special moment with SL, it was my turn. I was the last one in line & a bit nervous but I hid it well and decided to do something different—I had a short conversation with Jennifer in Spanish as I was aware of her being multi-lingual ability. I later translated part of it to Kristian who seemed his cheerful-handsome self (yes, he's quite the handsome man. Did I mention he's handsome?). And yes, they give great hugs. It was just like the first meeting where you feel as though you are catching up with friends and care a great deal for one another. It was genuine. Made me want to spend more time with Jennifer and talk about traveling, food, etc, Kristian's talented musical abilities, his beautiful white falcon Gretsch guitar—but I digress. *sigh*

Anyhow, I took a picture with them and thanked them for their time. As I'm about to leave, Jennifer asks for my name again and she starts chatting a bit more with me. No joke! Anyhow, I leave and give a sigh of relief as I just met up with my friends again (i.e., Jennifer & Kristian). It was my "aww" moment of the night. They were so gracious. Then, came the concert. I learned in the m&g that this would be SL's last stop with LBT & Matt Nathanson and so pranks were expected. I had my camera ready. Kristian and SL's band came on stage and pranked Matt by carrying all these different instruments and pretending to play along with them.

When Sugarland was midway through their set list, Kimberly & Karen did a "drive by" prank during the remix of "Everyday America", and I was fortunate enough to catch that on video. Of course J&K were all game and continued by singing part of "Edge of Seventeen" by Stevie Nicks. It was quite entertaining to see Kristian do a bit of a dance, shall we say. But I'm no dancer so I can't judge! ;-) Anyhow, vocally and musically, they rocked the stage, sounded wonderful, and played beautifully. They do look like they're enjoying what they all do up there.

The highlights for me were Incredible Machine, Find the Beat Again (that song doesn't sound the same without Sweet Caroline added to the end), and a song I wasn't expecting—Somebody To Love by Queen. WOW!!! Aaron Tap (a part of Matt's band), stole the show on that one. Boy can this man sing and what a great ensemble which included Jennifer, Kristian, LBT & Matt Nathanson. They all sounded great from beginning to the end. After the concert ended, I'm sure I'm not the only one that felt like, "I want s'more Sugar!"

The main memory I still have of their concert is their focus on the fans. Even though they are in the spotlight, Jennifer & Kristian always make it a point to connect with the fans from the stage. Getting a wave from them was special as well as getting guitar picks, etc. They truly are entertainers entertaining those who enjoy their music. Sugarland helped to create beautiful memories that evening and what a show! I'm so thankful I was able to attend and meet them once again. Thanks Kristian & Jennifer!

Thank you Sandra for taking the time to tell us your story! View other San Antonio blogs here.
Helpful Sugarlinks!
Get tickets for our 2012 tour!
Join our Sugarpass fan club
Sign up for our mailing list
Talk about it in our forum
Follow us on Twitter
Join us on Facebook