Kristian's favorite Christmas tree ornaments: Tell us about yours!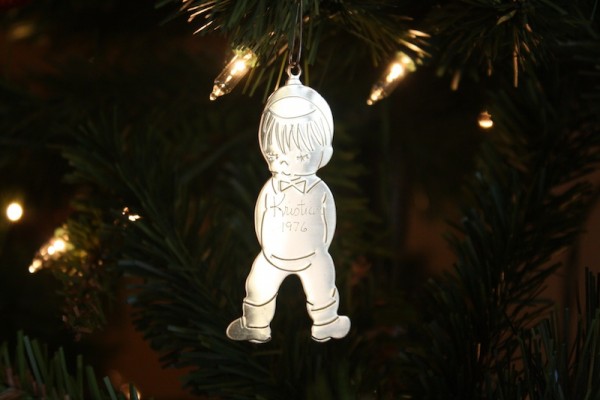 From the pen of Kristian Bush...
Hey everyone. While playing around with my camera and getting more and more nervous about Santa getting my Christmas list, I found myself taking pictures of my tree this year -- maybe for posterity, or to remember it through the year, or to send to friends. I realized pretty quickly that in order to keep them from being judged as cheesy or ugly, my ornaments need to come with a story attached somehow. In my mind, maybe each one comes with a neat, perfectly-cut white plaque from a museum that succinctly describes that ornament, with perfect font spacing. You know, something that makes it appear important, even though it's probably just a piece of junk ornament that I got at a truck stop somewhere while traveling.
So I thought I might ask everyone a question out there in Sugar-fan-land: What are the stories of your favorite ornaments on your tree? As I am a bit talkative today, I will share some of mine with you.
The ornament at the top of this post is I think my oldest surviving ornament from childhood. You will notice it is engraved with my name and the year. I like to believe in my head that it was truly one of a kind, but I have heard of identical ones out there, and maybe every child in 1976 got the same ornament because it came in an S&H green stamp book bonus gift program or something. No matter how it got to me, it is the only surviving relic of that time.
This one is exactly what it appears to be. The fun part about this is that I got it during our first appearance on the Grand Ole Opry, by sneaking out to the lobby in between soundcheck and the performance. I won't forget it because I had to stand in line for a while, big white hat and all, and nod and smile as everyone asked each other if they had seen us play before. Most of the customers replied "No" to each other. When they asked me, I smiled and said, "I hope they're good." I bought my ornament and ducked back down the hall for the backstage door. So this is my proof of my first Opry performance.
Finally, there are ornaments that I hope inspire. After my mother died, I had a hard time divvying up her things and distributing them. She had a sudden death, and it has taken quite a while to process. Eventually I ended up sitting in front of many of her things, just staring, trying to figure out what to do.
One of the things my mom loved to do was go over the top with the things around her. There were many mornings I came down for breakfast to find that we were drinking our orange juice from goblets (yes, like King Arthur's court, or Vikings). She always insisted that we use her silver, every day. "If you have it, why not use it?" she would remind us. So I sat in front of her chandelier, the really dangly crystal '80s chandelier that was part really classy, part "Where am I ever gonna hang that?" It was suggested that we make Christmas ornaments out of the pieces and give them to everyone in the family to remember her and her over-the-top attitude. I was sold. These are the pieces below.
Merry Christmas, everyone. May this week bring lots of music and smiles and family and patience and love and hope.
- Kristian
Do you have a favorite ornament? Tell us your story and post pictures or links below!
Helpful Sugarlinks!
Get tickets for our 2012 tour!
Order The Incredible Machine today!
Your complete guide to The Incredible Machine
Join our Sugarpass fan club
Sign up for our mailing list
Talk about it in our forum
Follow us on Twitter
Join us on Facebook
Find us on Ping