Win a Date with Sugarland "Tonight"!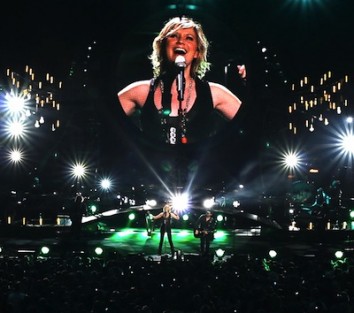 On Friday, we debuted our new live video for "Tonight," and to celebrate, we're offering you the opportunity of a lifetime:
Show us YOUR "Tonight," and you could win a trip for two to see Sugarland play the final show of the 2011 Incredible Machine Tour in Atlanta on October 22!
We'll give you round-trip airfare for two to Atlanta from anyplace within the U.S., hotel accommodations, and tickets to the show. But wait, there's more! Upon reaching the show, you and your date will also receive a pre-show candlelight dinner in the parking lot, courtesy of Dega, our legendary tour caterers... and a meet & greet with Jennifer and Kristian!
Worth playing for? Here's how to enter:
Make a 2 minute video that answers the question, "What are you waiting for 'Tonight'?"
Is it a dream date with your partner? A night in with your children? An evening out with friends? Some quiet time alone? We want to know what YOUR idea of a perfect "Tonight" looks like.
We'll even give you some raw materials to get you going: clips from our live "Tonight" video, shot by Sugarland documentarian Valarie Allyn Bienas. You must use at least one of these clips in your video... but then you can be as creative as you want with the footage. Cut it up, twist it, turn it, put effects on it, make it your own.
DOWNLOAD YOUR RAW MATERIALS HERE
Download the large size (HD footage, approx. 600 MB)
Download the small size (approx. 50 MB)
if download doesn't start immediately, right-click and save to desktop (PC) or control-click and download (Mac).
Once you've dreamed up your video, upload it to YouTube, and send us the link via our Tonight Campaign Page. Registration is required, but registration is also free, and free stuff is always nice. ** NOTE: Some people are having login issues with the direct link -- you may have better luck accessing the Campaign Page by choosing the "Community" dropdown menu in our nav bar above, then clicking "Campaigns."
Deadline for video submissions is 11:59 p.m. ET on Monday, August 8.
We'll watch all your submissions and select 10 finalists. What are we looking for? Storytelling abilities. Creative use of the raw materials. Heartwarming tales of love and friendship and anticipation and... you know what? Just go listen to the song again. Make us feel THAT.
Then we'll post those 10 finalists and let YOU vote on your favorites, right here on Sugarlandmusic.com.
Finalists will win a signed copy of The Incredible Machine. The winner gets to fly to Atlanta.
So what are YOU waiting for? Visit our Tonight Campaign Page for full rules and details, and sign up to win a date with Sugarland... "Tonight"!
Helpful Sugarlinks!
2011 Incredible Machine Tour: On sale now!
Check out our 2011 Incredible Machine Tour dates
Order The Incredible Machine today!
Your complete guide to The Incredible Machine
Join our Sugarpass fan club
Sign up for our mailing list
Talk about it in our forum
Follow us on Twitter
Join us on Facebook
Find us on Ping