Day Off Record Club: R.E.M.'s 'Murmur'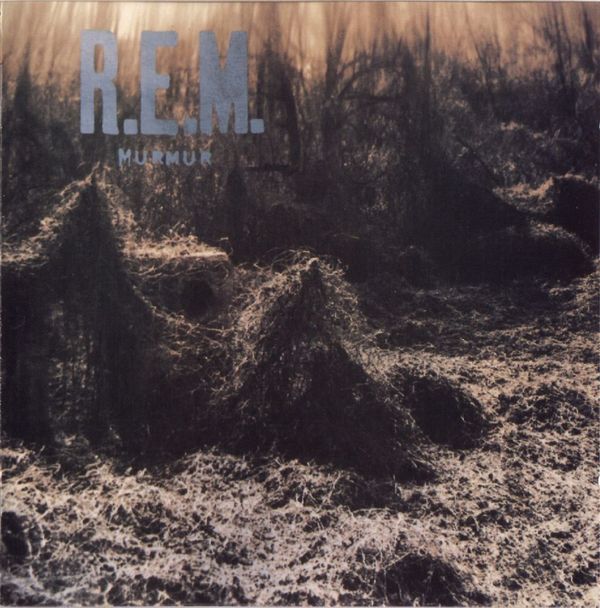 This week, Kristian launched Day Off Record Club, his take on a book club for music lovers. You can read his introduction to the series here.
Today, he presents the first Day Off Record Club selection: R.E.M.'s Murmur.
Time to drop the needle and read on for his thoughts...
I woke up one day in seventh grade and felt an intense pain in the front right side of my body every time I tried to stand up straight. I remember it first happening when I was reaching for my toothpaste in the bathroom. I couldn't do it. I hobbled down the stairs like a hunchback, plopped down on the first sofa I saw, and promptly told my mother that I was sick and might not be able to go to school today.
She was pretty suspicious of me. I had tried something like this earlier in the month to get an extra day on a term paper, and I knew she thought I was trying to go back to the well. My mom was a nurse, so you had to really know your biology in order to make a plan like that work. This time, though, it turned out my appendix was about to rupture.
Fast-forward the story to a hospital where I went under anesthesia, and then back out to the first bite of ice cream after my first surgery. I could hardly move and hardly think. My mom was there when I woke in the hospital. She asked if I wanted anything. I answered, "My Walkman and some tapes."
For those of you that remember, the Walkman was a pretty mind-blowing technological development at the time. You could listen to music on headphones on a portable device! I had saved for a year to buy one. My brother was charged with bringing it to me, and somehow brought me R.E.M.'s Murmur when he returned to the hospital. My Walkman had the "auto reverse" option which "flipped" the tape head to play on an endless loop, one side and then the other. Murmur played for a long time, over and over, as I laid in a hospital bed.
I had heard one of the songs on the album before, "Radio Free Europe." They were playing it occasionally on Album88, the local college radio station, and I'd wondered who the band was that played it. There was something magical about the album. The album cover (even on cassette) was murky, almost blurry, even though I knew it wasn't a blurry picture. The music was clear, but I couldn't make out exactly what the singer was saying. The melodies and harmonies were beautiful but I couldn't really tell where the phrases began and where they ended. I heard a southern accent on a song that wasn't by Skynyrd or Dolly Parton. I'd never heard anything like it before. So began my discovery of R.E.M.
I've learned to play most of the songs on this album. I learned the bass parts first, then the guitar parts. I still don't know the lyrics, but I make up what I can't clearly understand, rather than go online and see other people's guesses. The liner notes are really short. You can see who produced and engineered it (Don Dixon and Mitch Easter); where they did it (Reflection Studios, Charlotte, NC); and who was in the band. They were listed by first names only: Bill, Michael, Peter, Mike. An address at the bottom listed a P.O. Box in Athens, GA.
There was no internet to look up the band, and no TV show or press junket that followed to help me learn anything else... so I just listened.
I eventually figured out that the album cover was a picture of dormant kudzu covering something.
This album still spins maybe once a month at my house, or on the bus. I like it in the morning or afternoon.
Things that I learned from this album:
How important the bass player and the bass line is. It defines the song.
Listen to "Catapult." It's a brand new way to imagine harmony singing. Harmony is in the foreground, not the background, and they don't have to sing the same words. Many times they sing across each other in melody and in lyric. I'd never heard a band try this.
Also, I learned that albums don't need traditional ballads to feel complete. They need to wander, but not get lost.
Favorite songs:
"Sitting Still" (sometimes on our walk-in music at shows)
"Laughing"
"Talk About the Passion"
"Moral Kiosk"
"Radio Free Europe"
(This list is not truly fair, since I've claimed other songs as my favorite before.)
Coolest moments on the album:
The first time "Sitting Still" builds and then goes to the second verse instead of the chorus.
The first chorus on "Shaking Through."
The strange noises the top of "Radio Free Europe."
The French lyrics in "Talk About the Passion."
Since that day in the hospital bed, I've continued to follow R.E.M., signed up for their fan club, bought their albums, and listened to them over and over. I am grateful for their ability to define and redefine (to me) the role of the modern Southern recording artist and songwriter. They are proud of where they're from -- as am I -- and their example is one that I try to follow every time I pull out my pencil or my guitar. They are from the country, the red clay, the kudzu, the small town, the edge where music grows on the other side of that field in the distance, past that fence you see.
This is the album I try to give to people first if they do not own an R.E.M. album. Also, I recommend the 33 1/3 book about Murmur as a listening companion for new and old fans alike.
Now: In Day Off Record Club fashion, take a listen, all the way through.
Tell me what you like. Which songs or moments stand out to you, and why?
How does this album make you feel?
If you already know this album, do you remember when or where you first heard it?
Also, If you are a superfan, did anyone go see Don Dixon at the Attic this spring? If so, was it awesome?
Also, when you listen to the new Decemberists album, do you recognize any sounds from this album?
We will discuss…
- Kristian
Helpful Sugarlinks!
2011 Incredible Machine Tour: On sale now!
Check out our 2011 Incredible Machine Tour dates
Order The Incredible Machine today!
Your complete guide to The Incredible Machine
Join our Sugarpass fan club
Sign up for our mailing list
Talk about it in our forum
Follow us on Twitter
Join us on Facebook
Find us on Ping