Jennifer Nettles's Favorite Things 2011: What's in her Easter Basket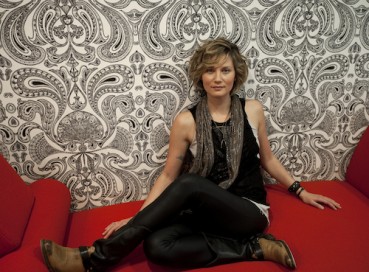 From the pen of Jennifer Nettles...
Yes, ladies and gentlemen, it's that time of year again: I've collected some of my favorite prizes from throughout the last year and sent them out to loved ones in the form of My Favorite Things Basket 2011!
This is a tradition. (For those of you interested, check out the blog from last year's basket). I love sending these out after the New Year because no one is expecting a prize in the mail at that time, so it's even more exciting. This year, I've been so busy -- well, they've turned into Favorite Things Easter Baskets.
This is my way to keep in touch and say, "I'm thinking of you," that isn't a yearly Christmas card. I confess, I don't send out Christmas cards. Though I love receiving them, I just don't get into the tradition, personally. It seems like one of those things that once you start, it's hard to stop without worrying people, or pissing them off. That's a lot of pressure. I don't really do the "look what I've been up to" yearly letter either. When your work schedule is listed on the world wide web or on television, well, it gets a little redundant and I'd hate to bore. I think if I had kids I might send one of the cards made out of pictures. That's always fun, right?! You get to see how everyone has grown. I especially like those. But I digress...
Me, I send little baskets of joy along with a little note explaining the items each contains. This year's Easter Baskets contained......drum roll please......
Breathing on Your Own, compiled by Richard Kehl
This is a collection of beautiful and delicious quotes that touch on a myriad of topics, some by well-known people, some by very obscure folk. I guarantee that you will find an appropriate morsel of beauty for almost any situation you can imagine -- and some for situations you would never even consider! This book was given to me as a gift, and I want to share it.
Chocolate Tiles by Poco Dolce
My friend turned me on to this chocolate out of San Francisco, and I am changed! Like the name implies in Italian, "Poco Dolce" is just a little sweet treat that is perfect for the chocoholic in your life. I personally like the bittersweet chocolate sea salt tiles. Get into it. Trust me. [www.pocodolce.com]

Personalized note cards by Emily Brown
My old neighbor (not old as in "aged," but old as in "no longer my neighbor") gave me these as a little birthday prize and I love them. They make me feel official. They are simple and sophisticated, like little pieces of modern art to send in the mail. [www.emilybrowndesigns.com]

Dirty Nekkid Man Coffee
This one seems to be a recurrent hit. It is from my fave Atlanta coffee shop and is named for the method they use to brew it. (Something about leaving the hulls on, which is not nearly is fun as the definition I had made up in my imagination). It is wonderfully bold and fragrant, which is, of course, how we all enjoy our nekkid men, I mean, coffee. [www.dirtynekkidcoffee.com]
- Jennifer
What would you put in YOUR Favorite Things Basket for 2011? Tell us in the comments!
Helpful Sugarlinks!
2011 Incredible Machine Tour: On sale now!
Check out our 2011 Incredible Machine Tour dates
Order The Incredible Machine today!
Your complete guide to The Incredible Machine
Join our Sugarpass fan club
Sign up for our mailing list
Talk about it in our forum
Follow us on Twitter
Join us on Facebook
Find us on Ping
Photo Credit: Valarie Allyn Bienas