Sugarland UK & Ireland Promo Tour Diary, Part 1: London's News of the World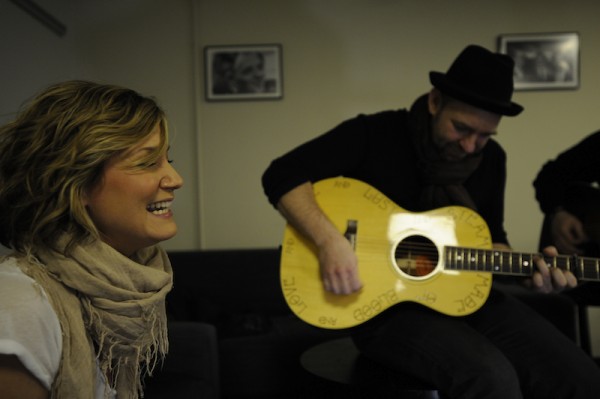 We are in the U.K. and Ireland this week and next -- surprise! -- for a quick promo tour in support of The Incredible Machine, which hits overseas shelves February 7th! (Preorder it now, if you'd like.)
No "proper" shows scheduled, but we'll be appearing TONIGHT on Ireland's The Late Late Show, and next Friday, Feb. 11 on BBC's Graham Norton Show -- check local listings!
Yesterday was our first full day in London, and we spent it at the News of the World studios taping an acoustic performance for their online "XSessions" series, slated to appear this Sunday -- we'll bring you the link when it's live.
We're learning a lot about looking in the opposite direction when stepping off curbs, and there is much jockeying for position during taxi and van rides through the curving, narrow streets of that spectacular city so as to not end up facing backwards in the car. But motion sickness is no match for the sights whizzing by: Royal Albert Hall! Harrods! Big Ben! The Tower of London! Our ride to the airport at dusk was breathtaking, all those bridges and buildings lit up against the sky, ancient and modern architecture clustered together in a pile of "Ooh! What's that??"
Bit of a delay last night getting to Dublin: high winds held the planes from reaching Heathrow, but our pilot did a masterful job landing in the gale. Today, water is blowing horizontally out of fountains, and Kristian's a little worried about keeping his hat on in the gusts when we head out for The Late Late Show. Fingers crossed we make it to the pub later, as the craving for Guinness has reached epic levels.
Here's a quick look at Day 1 of our Sugar Invasion -- or, as Jennifer puts it, "Infection":
See you back here tomorrow for more from our overseas adventure. Meanwhile, we're always looking for travel tips. What's an under-the-radar must-see for when we head back to London?
Helpful Sugarlinks!
2011 Incredible Machine Tour: On sale now!
Check out our 2011 Incredible Machine Tour dates
Order The Incredible Machine today!
Your complete guide to The Incredible Machine
Join our Sugarpass fan club
Sign up for our mailing list
Talk about it in our forum
Follow us on Twitter
Join us on Facebook
Find us on Ping
Photo Credit: Valarie Allyn Bienas