The Little Miss Project: Watch the fan video here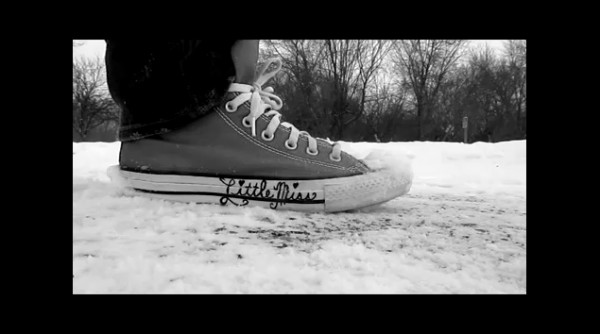 Yesterday, a fan named Erica posted a remarkable video on YouTube. Called "The Little Miss Project," it starts as a collection of messages from Sugarland fans talking about what this band means to them. Then, as "Little Miss" begins to play, the same fans hold up signs sharing their challenges in life.
We won't spoil the emotional ending. It's a beautiful piece of work, and we are so proud to showcase it on the site.
Watch the video and read Erica's story below. Tomorrow, we'll post how you can be a part of the project's next stage. To all the Little Misses (and Misters) out there in the world: Calling...
Erica writes:
"Little Miss" is definitely my favorite song off the new album. Don't get me wrong, the entire album is incredible, but this song really hit home for me. It's a song that we can all relate to, yet you feel like it was personally written for you. We've all experienced at least one character in the song, yet you feel like you're the only one that has ever felt like that specific character. I can see myself in this song, I see my Mom in this song, I see my friends in this song, that's how real this song is.
The concept of "The Little Miss Project" all started when I heard "Little Miss" on the radio as a single for the very first time. I asked myself, "What is this music video going to be like?" It's an inspiring, heart-warming song, and I knew the video would be the same way. I decided to make an "unofficial music video." I recently graduated with a Bachelor's Degree in photography, and back in school I had a documentary photography class. My documentary for the class consisted of about 20 different people, and they each wrote and filled in the blanks of "I am, I want, I need, I love, etc." From there, I chose the one I liked best, they wrote it on a notebook, and I snapped the picture in an environment that fit their story. I knew I wanted to elaborate more on this idea with "The Little Miss Project." I also knew that everyone who participated had to be Sugarland fans.
The next day, I created a Facebook event and invited all the Sugarland friends that I had been talking to. I gave them the general idea and asked what they had thought of it, and they were very excited about it. The Facebook event is where we all made our comments and ideas on how to make this project work. I ultimately decided that since I couldn't take a picture of them, since they are all over the country, that I would have them send in a video of themselves. I made instructional and sample videos to easier explain the idea and what was needed to make this project possible. The ideas and deadline of this project extended a little over a month. The idea for what to write on the notebook was a hard time that you have gone through or are going through, but you realize that everything will be okay. Basically, the overall picture is the "Little Misses" in all of us. I was so unbelievably excited to get it all together.
I started receiving everyone's videos, and as I saw what people wrote and sent to me, I knew this project was going to be amazing. Everyone spoke from their hearts and that was exactly what I wanted. I had also asked the fans to send in a video of why Sugarland has been such a huge part of their lives. I pictured this as the intro to the video, and it turned out perfect! I finished the video in just under a week of getting everyone's videos.
As soon as I finished the video, I uploaded it to Youtube. Within 2 hours of posting it, there were already over 100 views. My Facebook was lighting up with comments and everyone was sharing it with their friends. I was amazed. Fans commented saying how they cried, how inspiring it was, and how they think it should be the actual music video, or playing in the background as they perform this song on tour. I'm so glad that it touched people in every way that I had hoped and MORE. I wasn't expecting this huge of a response and I couldn't feel happier. This was something I had just wanted to do for a fun little project, and it's turned into a beautiful work of art.
I can't thank the fans enough for their hard work and I definitely can't thank Jennifer and Kristian enough for the way they've touched us all with their music. There aren't enough words to actually say thank you in the most appreciative way. You're always there when I'm feeling my worst, and you're there when I feel my best. You keep us all inspired.
Sugarland has the best fans. The Sugarland community has been so amazing. I'm so happy I get to call so many of these fans, my friends. I'm truly my happiest getting to be surrounded by people that love Sugarland as much as I do while being at a show. Can't wait to see you again on the second leg of the tour!
Love,
Erica J. Bjork
Helpful Sugarlinks!
Check out our 2011 Incredible Machine Tour dates!
Order The Incredible Machine today!
Your complete guide to The Incredible Machine
Join our Sugarpass fan club
Sign up for our mailing list
Talk about it in our forum
Follow us on Twitter
Join us on Facebook
Find us on Ping