Stalking the Cheesemonger: Jennifer Nettles on the pursuit of the world's finest fromager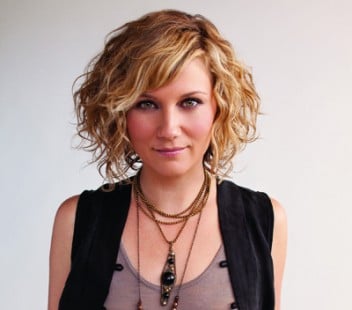 Anyone who knows me even slightly (or anyone who has seen that ridiculous, early-career interview where I do my Wookie impersonation) (yes, I said Wookie impersonation) knows that I love cheese. This is a major coup for my mother who, in hating cheese herself, made sure I was introduced and exposed to it as a child. I guess it took. In spades. I have a love affair with the creamy, salty, yummy, stinky, dreamy stuff. It is inspired by this passionate obsession that I found myself stalking the cheesemonger.
While enjoying the weekend visiting loved ones, we all were entertained by a rousing showing of Modern Marvels on the History Channel. This in and of itself was a miracle for me in that the rest of the weekend had been dominated by hockey and football. (Help!) But I digress. This particular Modern Marvel segment was dedicated to -- you guessed it -- cheese! In addition to educating us on cheese history and manufacturing, the segment was peppered with knowledgeable commentary by some of the nation's top cheesemongers, from New York to L.A. It was here that I was first "introduced" to Mr. Steve Jenkins.
Mr. Jenkins is a world renowned cheesemonger and has been awarded, among other high cheese honors, membership into France's 800 year-old Guilde de St. Uguzon (yes, they actually have a cheese award that is essentially four times older than our country itself), and he's been inducted into the honorary Chevalier du Taste-Fromage. (This is significant because the French love cheese almost as much as I do.) He has written books on the food industry and one honoring the creamy wonder itself, entitled Cheese Primer. I guess you could call him, well, "The Big Cheese." (Yes, ladies and gentlemen, I went there). He also happens to work in New York.
Coincidentally, I was in NYC for a few days and decided that I must find Mr. Jenkins and secure his autograph on a copy of his book. But how would I ever find The Big Cheese in The Big Apple?
Like any good stalker, I look him up on Google. First, I begin by searching for the Modern Marvels episode that featured cheese. Easy. YouTube. Then, I fast-forwarded to the part where I first saw Mr. Jenkins and found a mention of his place of business. For 30 years he has been working at Fairway Market, of which there are four in the NYC area. How do I know which one to search? I look deeper into Google. It knows pretty much everything. I find a certain video interview with Mr. Jenkins at the Upper West Side location and thought, "I have it! You can't hide from me, cheese genius!" So like any good Girl Scout (of which I was not an actual member), I check before I trek. I call the Upper West Side location.
"Fairway Market. This is Sharisse. How may I help you?"
"Uh, Hey Sharisse. Do you guys carry Cheese Primer, by Steve Jenkins?"
"Yes we do."
Very coolly, I add, "Um, is Mr. Jenkins working today?"
"He works at the uptown location."
"Thank you."
I'm so excited that I hang up without realizing that I don't know where the uptown store is actually located.
"Fairway Market. This is Sharisse. How may I help you?"
"Uh, Hey Sharisse. Me again." [Try to act natural.] "Um, where exactly IS the uptown location?"
"12th Ave and 130th St."
"Thank you."
For the next two minutes I scramble online to find the uptown location's address and phone number. Bingo! It's listed, not under "uptown location," but rather "Harlem" location. I call the Harlem location.
"Fairway Market. This is Michelle. How may I help you?"
"Hey Michelle. Do you carry the book Cheese Primer, by Steve Jenkins?"
"Hold on, let me check."
"Sure." [Breathe. Remember to breathe. I feel like I am breaking into the Pentagon or something. Like I have some huge secret that no one else knows.]
"Yes, we have it over next to the cheese department."
[Gulp.] "Is Mr. Jenkins working today?"
"Hold on, let me check."
"Of course." [Tick-tock.]
"Yes ma'am, he's here right now, but I don't know how much longer he'll be in the building."
Shit! What was I going to do? Elvis was leaving the building at any moment. It was 10:38 a.m. and I had a conference call at 11! Decisions, decisions. I would not be thwarted! No! I would consider this an adventure and get his autograph one way or another. It may not be today, but at least I would take the chance, chart my route, maybe do a dry run, go to his department in the market and peruse the inventory so that I might possibly have an intelligent question to ask him... You know, the usual stalker modus operandi.
So, on to Google Maps I went. This thing is genius in NYC! It gives you car routes, walking routes, and, most exciting for me, public transportation routes! Remember when I said this was the Harlem location? Well, let me tell you what I know about Harlem: The Globetrotters and the Clintons. That's it. Though the subway route seemed pretty straightforward, considering the time, my cheesemonger's imminent departure at any moment, and my own lack of knowledge of the area, I decided not to risk wasting a trip by possibly missing him, and postponed my visit until the next day. This is where I found my accomplice: Carolina.
Carolina is a New Yorker via Argentina. She is also a friend of mine and at dinner, when I told her of my cheese-loving plans, she most assuredly informed me that I would not be taking the train nor even a taxi to the market. No, she would drive me herself. She was free after 11 a.m. Oh God, would Steve still be there after 11? (I feel at this point I can call him Steve. Not to his face, of course. But you and I can talk about him intimately that way.) Only time would tell.
The big day. I wake up early. (8:15 is early for musicians.) I go to the gym. I come back to my room. I take a shower. I patiently wait until 10:30 since I know I don't have a ride until 11:00 at the earliest. I call the market.
"Fairway Market. This is Angela. How may I help you?"
"Hey Angela, is Steve Jenkins working today? I believe he'd be in the cheese department."
"You want the cheese department?"
"However you feel is best to check." [I'm too nervous to realize that this statement is probably annoying.]
[Pause.]
[Male voice answers.]
"Hello?"
At this point, I am a wreck. Totally off guard. Supremely unprepared. Completely taken by surprise.
"Hello, um, is this Mr. Steve Jenkins?"
"This is he."
[The Virgo in me shivers with joy at his usage of correct grammar.]
"Hello, Mr. Jenkins. My name is Jennifer, and I was wondering if you will be working for the next hour because I am a big fan of yours and would love to come to the store and get your autograph." [Breathe.]
"Yeah, I'll be here. Come on over. Just have the floor manager call me, and I'll come down."
Down? Down from where? The creamy gates of Cheese Heaven? The milky halls of the Lovely Land of Lactose? The velvety mountains of Munster and Manchego?
I immediately go into the execution phase of this plan. I call Carolina who already this morning has had parent-teacher conferences for both of her children. Hell of a way to start a day, so I'm sure she is bursting at the seams to schlep my ass uptown to get the autograph of my Roquefort Rockstar. None the less, she graciously tells me to meet her in 30 minutes. I throw on some clothes in a frenzy and grab a cab to meet her. We hop in her car and speed up the West Side Highway until we arrive at our destiny, I mean, destination.
We park. There are three buildings with Fairway Market painted on them. My palms are sweating. Which one houses my Havarti Hero? (Is the alliteration starting to kill you at this point? Sorry, sometimes I'm a little... cheesy. Ha! I'm on a roll.) After a while of wandering around, freezing, searching for a door, someone takes pity on us and tells us to go around the other side of the third building. We walk in.
It's really beautiful. Because it's New York, they have to use every inch of space. Potatoes and onions stacked in high mountains. Bags of pasta, piled to the ceiling. (I have a love of grocery stores and markets because I grew up hanging out and working at my grandparents' mom n' pop grocery, outside my hometown. Well-stocked shelves in perfect order bring a deep sense of accomplishment, comfort and nostalgia.) We make our way back to the cheese department. It is divine. We could have closed our eyes and smelled our way there.
To the Counter Rep:
"Hello. Would you please call Mr. Jenkins and ask him to come down?"
"Does he know you're coming?"
[Proudly] "Yes."
"What is your name?"
"Jennifer."
I was afraid that he was going to ask for the password or require me to answer a riddle, like, "What is the air-speed velocity of an unladen swallow?" or something. But he doesn't. He gets on his sweet walkie-talkie phone and calls Steve. In the meantime, I grab two copies of Steve's book,Cheese Primer, and clutch them to my chest as if they are the last two cigarettes in the world and I'm surrounded by angry, jonesing smokers in one of those horrible, airport smoking lounges. (Grossest concept on the planet and when I walk by them I want to distribute iron lungs to everyone. But I digress...)
Steve appears at the end of an aisle. Precious. Salty. Casually confident. This is his power place. His Coliseum and he is The Gladiator of Gouda. The floor man shouts, "Steve!" He turns, we make eye contact. I decide waving as if I know him is the appropriate reaction. He comes over and I reach out my hand.
"Hey Steve. I'm Jennifer. So nice to meet you!"
And you know what he says? He says, "Wow! I didn't know you were a dish! I thought you would be an old lady!"
I blush and am ecstatic! One: that he thought I was a dish. Two: that I have old lady hobbies.
My friend Carolina, as if right on cue, says to me, "How did you know to find him here?"
I proudly say, "Because I stalked him, Carolina!" I so wanted him to hear this.
Then I realize, Oh god, I don't have a pen!!! Me. A woman who is constantly signing things as part of my job. Me. Who gets pissed at the audacity of the airport eBayers if they dare not bring their own Sharpie. How could I not think of this!!!!! Not to worry! Steve requests the sword of the floor man working behind the counter.
This is the moment I've been waiting for. I stand, paused between foodie obscurity and cheesemonger infamy. Steve opens the book and writes, "This is Jennifer's book. NO LOANING OUT! Signed, Steve Jenkins". I thank him profusely and as he turns to leave he says, "Come to me for any of your food needs."
Angels sing. Life is good. I have stalked the cheesemonger and it paid.
For now, I sit writing this on my BlackBerry at a coffee shop somewhere on Broome St. I'm trying to decide on my next "old lady hobby" adventure. Maybe artisanal crochet yarn. Maybe the beginning of a collection of Precious Moments figurines. Today, the cheesemonger. Tomorrow, moo knows?
- Jennifer
Helpful Sugarlinks!
Order The Incredible Machine today!
Your complete guide to The Incredible Machine
Talk about it in our forum
Join our Sugarpass fan club
Sign up for our mailing list
Follow us on Twitter
Join us on Facebook
Find us on Ping