Jennifer Nettles's Favorite Things: What's in her Was-New-Years-Now-Valentine's Basket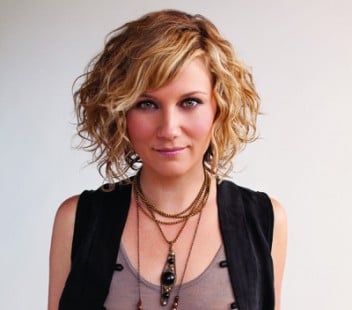 Each year, I put together a poor man's basket version of Oprah's "Favorite Things" show. In this basket I put some of my favorite things from throughout the year. Historically, this basket is mailed in early January as a New Year's treat. (I like to wait til after all the holiday hoopla. Makes it more of an unexpected surprise.) This year January came and went, and I had yet to mail my New Year's Favorite Things baskets. So, this year, they were Valentine's baskets. And, as so often happens when my "best laid plans of mice and men" hit a bit of a speed bump, I was inspired. I thought, "Would the fans like a peek into my basket?" (You can take that how you like, sweetheart. It is Valentine's Day after all...)
But then I wondered, "Is this a lame blog idea? I mean, certainly they'd like another account of one of my ridiculous adventures." But then I thought, "Well, at the very least, this may be a lifesaver for some poor asshole who forgets to get his lady-love a V-day gift, and maybe he can use it as an inspirational theme if she happens to be a fan. As in, 'Hey honey, I got you Jennifer's Favorite Things basket for Valentine's Day.'"
And so, in the spirit of diplomacy and clemency -- and quite possibly emergency if you actually don't have her a gift yet -- I give you My Favorite Things V-Day Basket.
Now, before I jump in here, I just want to say a couple of things. First of all, some of these items you will be able to find online. Some, you can call and have them shipped. Some, you'll be shit out of luck, but you can ad lib. I am providing websites when I know them, but haven't provided those I don't know. It's called Google. Check it out yourself and you will be pointed in the right direction. And, if you aren't, well, don't blame me. I'm just providing the inspiration.
In fact, you should thank me regardless of how hard you might have to search, as I am keeping you from making one of those sweet but rarely used coupon books for things like: "Good For One Foot Massage" or "Good For One Bubble Bath." It's a very sweet idea and I think I actually made one of these in my twenties. They just rarely actually get cashed in and it unfortunately puts the responsibility of remembering to redeem the coupon/gift upon the person who receives it, which is really ironic considering that the reason you are making it anyway is because you forgot to actually buy a gift. (Don't get me wrong here. It is always the thought that counts. And this gift can be very thoughtful. However, trust me when I say you'd better drop the index card and blue pen and get out the construction paper and glue and markers and spend some time on that sucker. Otherwise, she's gonna know that you forgot and just threw a coupon book together at the last minute.)
Second of all, this isn't some lame celebrity scam where I act as if I really use a product that I've never really used but say that I use it in order to get paid. (Hello? How many times do I have to see a commercial where someone acts as if she has acne and that she uses a certain product and her problem magically disappears, all the while knowing that her ass goes to the best dermatologist on the planet? But I digress...) This is simply stuff I like, that mails easily, in a nice little basket.
I love this red sauce from Caffe Nonna's restaurant in Nashville, TN. It is delicious, and 15 percent of the proceeds go to children's health charities. The owner's daughter had brain cancer, so he was inspired to donate part of the profits from its sale. (www.nonnasgourmetfoods.com)
I love this pasta, as I have had to go gluten-free in my diet. It tastes just like pasta should taste, but without the wheat/gluten. I used their spaghetti because it fit better in my basket but any of their shapes are delicious. Put the Nonna's sauce on top of this. (See, it's a theme. You could maybe even cook it for your lady-love.) If you're near a Whole Foods you can go get this right now -- lthough any health food store or health section in your everyday grocery worth its salt will have a brown rice pasta option nowadays. (www.tinkyada.com)
My Aunt Kay's Pecans
People love these pecans, particularly my friends who live in the north. They get such a kick out of getting Georgia pecans from someone in Georgia who actually has pecan trees on their property. I think they like to imagine us out in the pecan orchard, all Scarlet O'Hara and 500 degrees Fahrenheit, wearing a hoop skirt made out of curtains with a do-rag on our head, picking up pecans and sighing how we'll "never starve again." This one, you're shit out of luck on getting the real thing. I mean, you can get Georgia pecans online, but my Aunt's -- well, that ain't gonna happen. Regardless, you might be well served to maybe get your lady a lovely bag of chocolate covered nuts at this point. Chocolate never hurts. Unless you live in the northeast, at which point, she too will probably think Georgia pecans are somehow romantic. (I don't quite get it, but, just go with it.)
Red Flower Cleansing Body Wash in Spanish Gardenia
Ok, this stuff is heavenly. I'm not normally a "flowery" gal. (I prefer earthy, musky scents over flowery or powdery.) However, this scent reminds me of the home I grew up in, as we had a gardenia bush outside my mother's bedroom. In the summer, its thick, heavy perfume could fill the house. This body wash hits it dead on the mark. Maybe your lady-love might take a bath while you make her pasta dinner. Just a thought. (www.redflower.com)
These little numbers are great for those of you like me, with a sweet tooth the size of Connecticut. At 80 calories a pop (pun intended), you can afford to enjoy one when you get a craving. Plus, they are creamy and tasty enough to satisfy. (www.sees.com)
This is my favorite coffee! It's brewed right here in Atlanta by a company called JavaVino. Besides, if you're lucky, maybe the name itself will be inspiration and you might actually get to make her breakfast, if you know what I mean. (www.dirtynekkidcoffe.com)
And so, with that, I leave you to your own Valentine's Day planning. I hope you get the most perforated cards delivered to the decorated brown paper bag taped to the back of your desk. I hope you get the heart-shaped box of chocolates, made with only the flavors you like, and that no one leaves any half-eaten-because-I-don't-like-'ems. I hope you get the most thoughtful and perfect customized coupon book ever. Most of all, I hope you are filled with lots of "Love on the Inside." Mwah!
- Jennifer
Helpful Sugarlinks!
Order The Incredible Machine today!
Your complete guide to The Incredible Machine
Talk about it in our forum
Join our Sugarpass fan club
Sign up for our mailing list
Follow us on Twitter
Join us on Facebook
Find us on Ping